[ad_1]

Consumer group charges service companies engaging in unfair practices with regard to EVs
Says EVs need minimum maintenance
Calls for the service industry to modernize and hire required skilled workers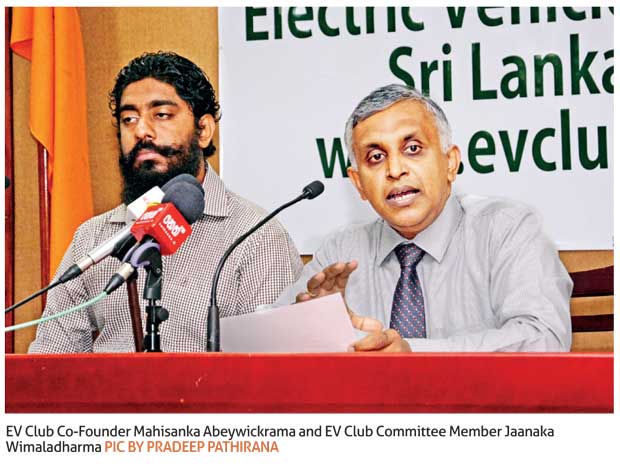 By Chandeepa Wettasinghe
The vehicle service industry may be lobbying to reverse the pro-electric vehicle (EV) policy and may continue to engage in predatory business practices to counter the lower revenues they would receive in the future due to new government policies,  a consumer group warned. 
Speaking at a media briefing, EV Club Co-Founder Mahisanka Abeywickrama noted how the car service industry would be negatively affected because their revenues would decline when more EVs are in use.
"To service an EV, you can do it in Rs.5000. But it was started at Rs.15,000 because they intimidated the EV owners, saying it's a novel product. Even now, the service price is Rs.9,000-10,000. A hybrid is charged just Rs.6,000. Also an EV needs a service once a year, maybe every 10,000-20,000km," he said.
He noted that servicing an EV is also very simple.
"So, the car service companies can't charge higher prices or earn margins on spare parts or lubricants. There's only reduction gear oil for EVs. They don't need filters or belts replaced," he said.
EV Club Committee Member Jaanaka Wimaladharma noted that some car service companies are attempting to make the EV owners paranoid with predatory business practices by insisting that the EVs too require a service every three months, the failure of which would render the car inoperable.
"So, there is an industry which feeds on consumers like that. So, they clearly have a threat from the current policy," he said.
Abeywickrama too added, "While we cannot make direct accusations that any party is trying to sabotage EV popularization, we must accept that there could be such influences."
He said that in the US too, traditional business interests managed to halt the popularization of EVs for some time.
However, Wimaladharma said that some leading service companies are genuinely interested in partnering on the green initiatives of the government and have reached out to the EV Club for advice on the way forward.
"So, they should hire people like software engineers because the car is controlled by a computer and an electrical system. There's no accelerator. There're no gears. A pedal and gear lever are provided as a familiar tool for our easy use but everything is controlled by a computer," Wimaladharma said.
He said that the existing players in the car service industry should adapt to the changing times or they will find themselves in a vastly different market environment going forward.
The 2018 budget outlined that Sri Lanka would only have electric and hybrid vehicles by 2040, while all government vehicles will reach this target by 2025.
[ad_2]

Source link