[ad_1]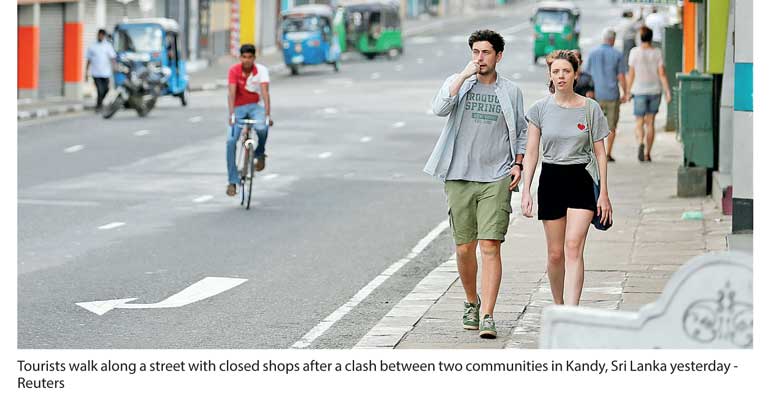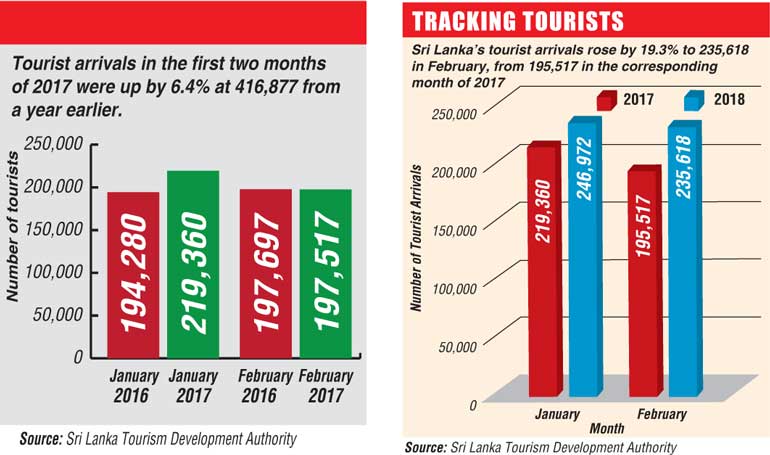 February arrivals gain by nearly 20% with Chinese influx but this week's violence in Kandy triggers hundreds of immediate cancellations 
Industry worried over future bookings; urges Govt. to quickly restore normalcy and build trust and safety
Experts call for immediate activation of PR and marketing campaign to avoid large-scale cancellation
By Charumini de Silva
The country's tourism industry has been dealt an immediate blow by recent violence in the Kandy District, with hundreds of cancellations of hotel bookings, sending tremors within the sector as February arrivals showed a healthy 20% growth. 
Speaking on condition of anonymity, several leading operators of city hotels and resorts confirmed to the Daily FT that the past two days have triggered hundreds of cancellations of immediate bookings.
While for a city hotel it means the loss of thousands of room nights for resorts this impact is much larger. 
"The global media spotlight being on communal violence in Kandy, a tourist and heritage city, and the clamping of a state of emergence even if it meant for a week have forced last-minute cancellations," a leading hotelier told the Daily FT.
"We fear a more pronounced impact on future bookings as well and in the next few days we will have a clear idea," a resort operator said, adding that the violence took place amidst the tourist season. 
The setback comes after February tourist arrivals data released yesterday showed a healthy 20% growth.  This was fuelled by an influx of Chinese tourists selecting Sri Lanka for their New Year holidays. 
No tourist has been injured due to this week's violence in the Kandy District but Chinese Foreign Ministry Spokesperson Geng Shuang at the regular weekly briefing this week expressed hope that Sri Lanka would take concrete measures to protect the security of Chinese citizens in Sri Lanka.
Industry experts said it was important for the Government to immediately restore normalcy and build trust and security for all. 
"The Government also needs to get its act together fast and activate an effective PR and marketing campaign soon to avoid large-scale cancellations in the medium term," they added. 
According to the Sri Lanka Tourism Development Authority (SLTDA), tourist arrivals in February rose by 19.3% to 235,618. In January the increase was 12.6%. Arrivals in the first two months were up 14% to 474,542.
China regained its status as the number one source market in February, up 42% to 35,929 arrivals. India followed second with a 25% gain to 32,914. In the first two months' tally, India remained number one with 70,850 arrivals followed by China with 60,204 arrivals. Traditional stronghold the UK saw its arrivals increase by 18% to 23,817 and by end-February the figure was 46,757. 
Chinese arrivals accounted for 15% of February arrivals and the increase was a welcome change as its numbers have declined in recent months. 
In terms of tourist arrivals by region, Europe continued to be the largest source of tourist traffic to Sri Lanka with 52% of the total traffic received in February 2018, while Asia and Pacific accounted for 41%, America 5%, Middle East 2% and Africa 0.49%.
SLTDA signals green light for travel in Kandy
The Sri Lanka Tourism Development Authority (SLTDA) yesterday announced that tourists could resume their travel plans to Kandy as the situation in the administrative district had improved and the area was fast returning to normalcy. 
"No violent incident has been reported from the district in the last 18 hours. Accordingly, the curfew has been lifted by the Police and tourists can resume their travel plans to Kandy," stated an SLTDA update on its website (www.sltda.lk/emergency) at 2.00 p.m. yesterday. 
However, the Police later announced that curfew would be imposed in the Kandy administrative district from 6.00 p.m. yesterday to 6.00 a.m. today.
The tourism authorities and industry stakeholders implemented a mechanism with the local Police authorities to facilitate the issuance of passes for tourists who choose to move out of the Kandy administrative district from Wednesday. 
"There were few curfew passes issued to tourists by Police in the Kandy administrative district following our request. Around 12 passes were issued from the Kandy police station, 10 from Katugastota and six from Peradeniya," SLTDA Chairman Kavan Ratnayake told the Daily FT. 
The webpage update said Police would also allow tourists to use their passports as a curfew pass in the Kandy administrative district if the need presented itself. 
Ratnayaka assured that Sri Lanka Tourism continues to work with all industry stakeholders to ensure tourists' safety and security as they travel throughout Sri Lanka. 
However, the authority added that the situation in Kandy had no impact whatsoever on other parts of the country and daily activities took place smoothly outside the Kandy District.
[ad_2]

Source link