[ad_1]

But pressures will be mitigated somewhat by the renewed IMF program 
Warns growth will be slower than projected 3.6%
Tourism decline will hit current account deficit 
Debt refinancing vulnerabilities could increase if market confidence undermined for longer 
Worries political tensions will resurface as Presidential elections edge closer
The tragic Easter bombings in Sri Lanka will result in lower economic growth this year and could increase external financing pressures, Fitch Ratings said in their latest update, but indicated such pressures were mitigated by the Government's continued adherence to economic policies that have enabled Sri Lanka to get its International Monetary Fund (IMF) program back on track. 
Last month's bombings, which targeted major hotels in Colombo as well as churches, will lead to a reduction in tourism receipts, which had risen steadily in recent years to $4 billion in 2018, or about 5% of Fitch-estimated GDP, Fitch said. The Government had forecasted a further rise to $5 billion this year. In response to the bombings, it now plans to launch an extensive tourism promotion campaign, alongside efforts to support the sector that could reportedly include VAT cuts and subsidies. 
"The full impact on tourist arrivals will depend on the Government's success in restoring security and the effectiveness of the measures to support the sector, particularly once the peak season begins in November. Nevertheless, we think 2019 GDP growth could be 1-1.5pp lower than our 3.6% forecast when we last reviewed Sri Lanka's sovereign rating in December due to reduced arrivals and spending. Backward linkages to the wider economy have been significant through job creation and construction activity and could amplify the impact," it said. 
Fitch also believes there will also be a significant impact on the current account deficit. Tourism provided nearly half of last year's services receipts ($8.4 billion) and the Sri Lankan authorities estimate that the current account deficit could widen to 2.7-2.8% of GDP in 2019, compared with their earlier forecast of 2.3%. 
March's $2.4 billion sovereign bond issue helped ease near-term fiscal and external financing constraints, but vulnerabilities would increase if the bombings undermine market confidence for a sustained period. Foreign-currency-denominated sovereign debt repayments for 2019-2022 total $16.8 billion against the Government's projections of reserves of between $7.2-7.5 billion at end-2019, down from its earlier projection of $8-8.2 billion. 
These challenges increase the importance of Sri Lanka's IMF program in catalysing funding support and as a policy anchor. 
The IMF Executive Board completed the fifth review under the program this week, noting that it had been successfully brought back on track after being put on hold during Sri Lanka's political crisis last year. Completion of the fifth review releases $164 million, bringing total disbursements under the program to $1.2 billion. Importantly, the IMF also extended the program by a year to June 2020, giving more time to complete economic reforms.
"The adequacy of foreign exchange reserves and refinancing risks remain key for Sri Lanka's sovereign rating, as highlighted in our rating sensitivities. Our downgrade to 'B'/Stable from 'B+'/Stable last December reflect heightened external refinancing risks, an uncertain policy outlook, and the risk of a slowdown in fiscal consolidation due to the political crisis. Political tensions could resurface towards the end of 2019, when Presidential elections are due," Fitch added. 
---
Tourist arrivals tumble as industry struggles to recover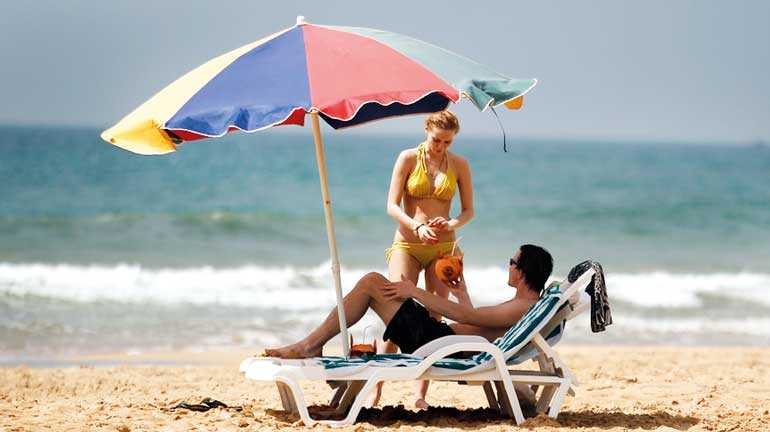 By Charumini de Silva
Contrary to expectations, tourist arrival numbers continue to tumble as the industry struggles towards a quicker recovery post-Easter Sunday terror attacks.
As per provisional data, prior to the communal violence early this week, tourist arrivals numbered 1,000 to 1,200 per day compared to between 1,700 and 2,200 visitors on an average in the first two weeks since 21 April.
Industry sources expect that the mob violence which erupted since Sunday will have a further impact on tourist arrival numbers.
The Sri Lanka Tourism Chief said these 1,200 tourist arrivals were prior to communal violence.  
"Tourist arrival numbers have continued to drop, unfortunately. According to provisional data, it stands at around 1,000 to 1,200 tourist arrivals per day," Sri Lanka Tourism Promotion Bureau (SLTPB) Chairman Kishu Gomes told Daily FT.
He believes that these 1,200 are all fresh bookings post-Easter Sunday attacks, whereas the previous 2,200 would have been some critical commitments which could not be cancelled.
"I think after Vesak, by end of next week, if there are no other incidents we will be able to get back to normalcy. People will take a few days to have the right level of confidence to get to their normal routines and lifestyles," Gomes said.
Noting that tourism authorities together with military personnel had been successful in convincing some of the foreign envoys in Sri Lanka, he said they hoped within the next two weeks, depending on there being no more incidents, some countries might withdraw or soften their negative travel advisories on Sri Lanka.
"The discussions with ambassadors have been quite successful, with security forces ensuring safety in the country. In an incidents-free situation in the country, some countries may withdraw or soften their negative travel advisories. Lifting of a negative travel advisory by one big country will have a major impact as others would also consider following suit," Gomes pointed out.
He also noted that SLTPB was helping the hotels and travel industry to produce various promotional packages to encourage in-house tourism. "We are supporting the industry by offering social media and mainstream television programs to raise spirits of local travellers during this dark hour and help many who are engaged in the industry," he said.
[ad_2]

Source link