[ad_1]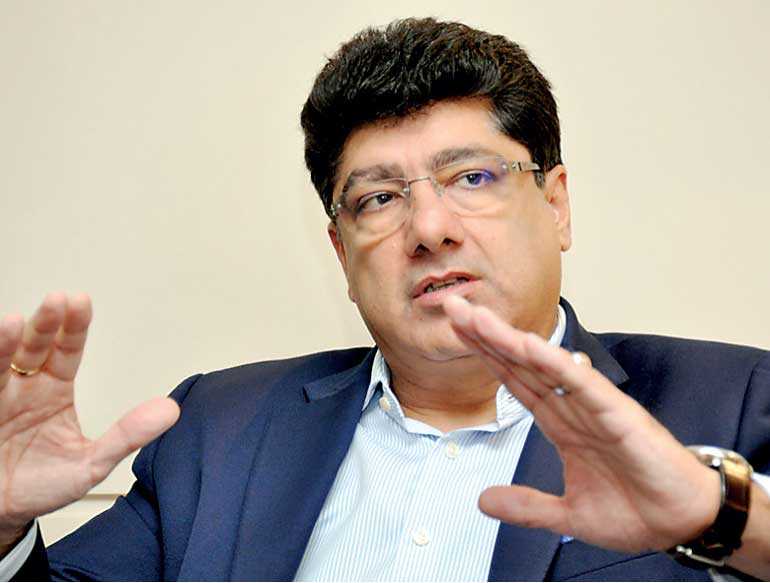 Taj brand owner Tata Group's Indian Hotels Company Managing Director and CEO Puneet Chhatwal gestures during the interview with the Daily FT yesterday – Pic by Lasantha Kumara
Revamps Taj Samudra with $ 20 m initial investment, commits further $ 20 m over next 5 years 

Bentota resort to be upgraded to Taj brand with $ 20 m investment

Airport hotel to be upgraded to Vivanta brand following $ 5 m recent revamp by owners

Taj MD and CEO stresses Sri Lanka tourism holds great promise with strengthened security and safety for visitors

Keen to expand footprint to Galle and Kandy in medium term and Jaffna later on, keeps options open to either manage or build in new locations

Likely to roll out latest initiative homestay brand 'Ama Trails & Stays' in Sri Lanka too

India's iconic brand says SL Govt. must incentivise newcomers and investments
By Nisthar Cassim
India's iconic and world-famous hospitality brand Taj yesterday expressed growing optimism on Sri Lanka committing over 
$ 40 million investment in the medium term to upgrade existing hotels as well as expand its footprint locally. 
"We are confident and bullish on Sri Lanka and we want to do more. This is the right time and most opportune," Taj brand owner Tata Group's Indian Hotels Company Ltd. Managing Director and CEO Puneet Chhatwal told the Daily FT in an exclusive interview.
"With an investment of $ 20 million we have progressed a lot in terms of room renovation at Taj Samudra in Colombo and expanded conventions space. We have completed the revamp of the airport hotel which will be rebranded under Vivanta. We are renovating the first 50 rooms in Bentota which will be rebranded under master brand Taj whilst Bombay Brasserie, signature fine dining Indian restaurant of Taj will be introduced at Bentota," he said. 
"Over the next five years we will be investing $ 20 million each on these two initiatives – Taj Samudra and Vivanta in Bentota," Chhatwal disclosed. For the airport hotel (currently branded as Gateway and managed by Taj Group) the owners had invested around $ 5 million for the upgrade. 
"We like to have a hotel in Galle first followed by in Kandy and in Jaffna later on," he said adding "We will either build on our own with Taj investments or work with our existing partners or manage an existing but select property."
The $ 1 billion group Taj also plans to introduce its new kid on the bloc 'Ama Trails & Stays' which is Taj's offering for the homestay segment. IHCL operates 178 hotels, including 30 under-development, in over 80 locations, across 12 countries spanning four continents. It owns and manages over 17,000 rooms globally.
He described Sri Lanka as an exceptional tourist destination and holds great promise with strengthened security and safety for visitors. 
Reflecting on the Easter Sunday tragedy, Chhatwal, who is a tourism industry professional with over three decades experience is in Colombo to share his insights to 'Recovering from a Crisis and rebuilding the brand' at the Cinnamon Future of Tourism Summit today, said it was very unfortunate but terrorism and extremism is a global phenomenon. 
"However, Sri Lanka has recovered commendably and we have seen demand returning. Taj Samudra year to date and even post 21/4 has outpaced the market in terms of occupancy with an average increase of over 50% in market share. That is the test of the brand reflecting greater trust and faith in the brand," he revealed. 
Chhatwal also emphasised that as a company with Indian roots "Taj is supportive of Sri Lanka which is perhaps the most strategically important neighbour. The stronger we are as a subcontinent the better it is for both Sri Lanka and India," he opined, adding that collective effort and partnerships will help the region as opposed to isolation or singular effort. 
He welcomed the Dawoodi Bohra community holding their annual gathering in Colombo as a big boost for tourism bringing over 20,000 devotees. "Sri Lanka needs more of such events," he added.
Chhatwal also noted that events such as the Cinnamon Future of Tourism and spotlight by world famous global media channel CNN and other global influencers will also considerably help promote the destination Sri Lanka. 
He also opined that the Sri Lankan Government must in the short term encourage and incentivise more international companies and brands to enter Sri Lanka and those already here to invest more. "Tourism is the biggest multiplier of jobs globally. Tourism accounts for 10% of global GDP and all jobs. Every single job created within tourism helps generate 8 to 10 additional jobs in ancillary sectors."
[ad_2]

Source link