[ad_1]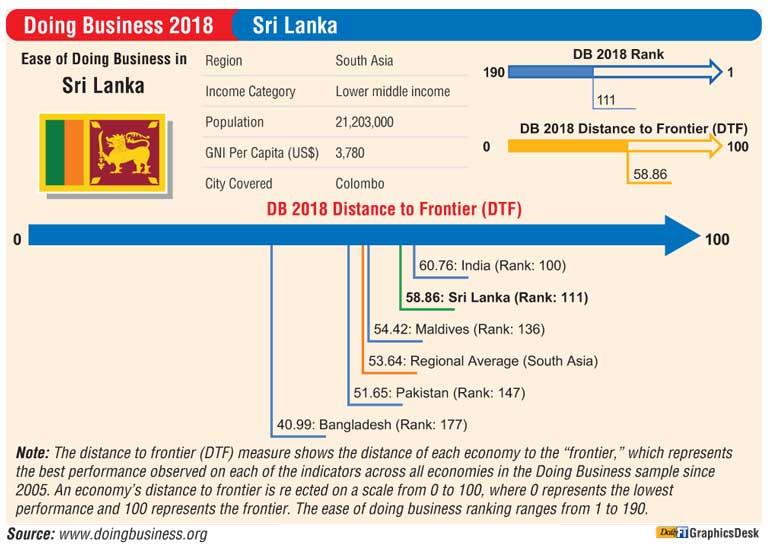 Sri Lanka is lagging behind in the Ease of Doing Business Index whilst the once struggling giant India is speeding away.
As per the latest ranking released yesterday by the World Bank, Sri Lanka dropped one place to number 111 from 110 last year. India on the other hand has jumped nearly 30 places to be at 100 and was grouped among the top 10 'improvers' globally, having done better in eight out of 10 business indicators. 
New Zealand is first on the ease of doing business for the second consecutive year followed by Singapore and Denmark which retained their first, second and third spots respectively, followed by the Republic of Korea, Hong Kong SAR, China, the United States, the United Kingdom, Norway, Georgia and Sweden.
Within South Asia, Sri Lanka is now stuck at number four, behind Bhutan (75), India and Nepal (105). Sri Lanka is only better than the Maldives (136), Pakistan (147), Bangladesh (177) and Afghanistan (183). Sri Lanka has improved its overall distance to frontier (DTF) score by 0.13 percentage points to 58.86 from 58.79 in 2017.
In South Asia, 20 reforms were implemented by six of the region's eight economies. India carried out eight reforms, the highest number for the country in a single year. Over the past 15 years, the region has implemented 127 reforms. Fifteen years ago it took over 50 days on average to start a business in the region, compared to 17 days now.
A Reuters report said India's progress was driven by reforms in access to credit, power supplies and protection of minority investors.
"Today's result is a very clear signal from India to the rest of the world that not only has the country been ready and open for business, as it has been for many decades, it is now competing as the preferred place to do business globally," World Bank's Vice President for South Asia, Annette Dixon, told reporters in New Delhi.
"Starting a business is now faster," Dixon said, adding that India had strengthened access to the credit system and made it easier to secure to procure construction permits.
However, the agency noted that India lags in areas such as 'starting a business', 'enforcing contracts' and 'dealing with construction permits'.
The report excluded the impact of Prime Minister Narendra Modi's shock withdrawal of high-value banknotes last year and the implementation of a nationwide multi-rate goods and services tax (GST), steps that affected businesses and dragged the economy to a three-year-low in the April-June quarter.
"In the case of GST, we know that this is a very complicated reform," Dixon said, adding that the agency would observe the GST for the next two or three years to see its full implementation.
This month Modi eased tax rules for small and medium-sized companies in a bid to address growing criticism of his stewardship of Asia's third-largest economy.
The World Bank report, covering the period from 2 June last year to 1 June this year, ranked India top among South Asian nations.
"This year's remarkable results are the culmination of efforts that have taken place over the past three years, so you can extrapolate forward and see that steps that are taken this year may take two to three years to show up in the results," Dixon said.
Marking its 15th anniversary, the report notes that 3,188 business reforms have been carried out since it began monitoring the ease of doing business for domestic small and medium enterprises around the world.
"Job creation is one of the transformational gains that countries and communities can achieve when the private sector is allowed to flourish. Fair, efficient and transparent rules, which Doing Business promotes, improve governance and tackle corruption," said World Bank Chief Executive Officer Kristalina Georgieva.
Developing countries carried out 206 reforms, accounting for 78% of the total reforms, with Sub-Saharan Africa implementing 83 reforms, a record for a second consecutive year for the region and South Asia implementing a record 20 reforms. A large number of reforms centred on improving access to credit and registering a new business, with 38 reforms each, as well as facilitating cross-border trade, with 33 reforms.
[ad_2]

Source link