[ad_1]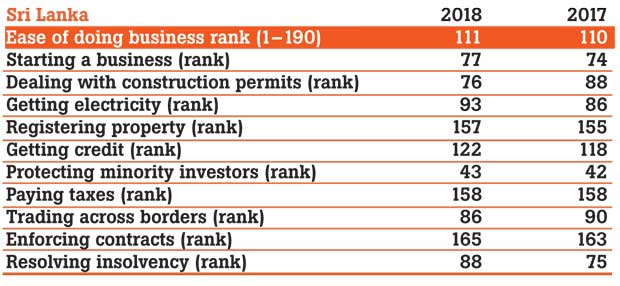 Sri Lanka's ease of doing business ranking slipped one notch to the 111th place from last year, according to the World Bank's 'Doing Business 2018' index, which measures the ease of doing business in 190 countries.
Sri Lanka's overall ranking was mainly affected by difficulties faced by businesses in registering property. Another sore point for Sri Lankan businesses was difficulties in getting credit.  Also, Sri Lanka's position in ease of paying taxes hasn't changed. The government, with the help of international agencies, is currently working on sprucing up the country's tax administration. 
However, Sri Lanka has made it easier to trade across borders by developing a customs single window.
Last year, Sri Lanka made it easier to start a business and improved in protecting minority investors. But this year both have slipped. 
Prime Minister Ranil Wickremesinghe has appointed a task force to work towards increasing the country's doing business ranking. But he said tangible results in the ranking would be seen from 2019 onwards.
The government has however set an ambitious target to improve Sri Lanka' doing business ranking to 70th place within a three-year timeline. 
Making an enabling environment for private businesses to do business easy and contribute to the national economy is paramount for a country like Sri Lanka, which followed a heavy state-led development model to its economic undoing. The current government is following a private sector-led, export-oriented framework to drive economic growth.
Meanwhile, India this year made remarkable gains in ease of doing business by jumping 30 spots in the index to secure the 100th place. This is a clear result of the unyielding reform effort spearheaded by Indian Prime Minister Narendra Modi. 
The World Bank's Doing Business index ranks the participating economies based on 10 indicators. With eight reforms making it easier to do business, India was the only economy in South Asia to join the list of the 10 top improvers. 
Elsewhere in the South Asian region, Bhutan ranked at 75, Nepal at 105, the Maldives at 136, Pakistan at 147, Bangladesh at 177 and Afghanistan at 183.
New Zealand ranked first in the index as the easiest place to do business followed by Singapore, Denmark, South Korea and Hong Kong. 
The United States and United Kingdom ranked the sixth and seventh despite their recent protectionist inclinations. 
[ad_2]

Source link