[ad_1]

The Sri Lanka Ambassador to Afghanistan presented his credentials to Islamic Republic of Afghanistan President Dr. Mohammad Ashraf Ghani on 7 March at the President's Palace in Kabul.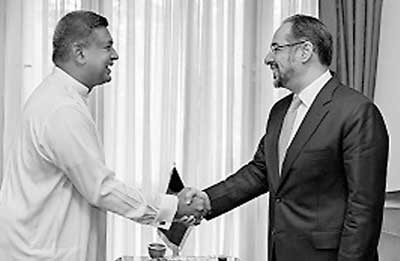 The ceremony commenced with a red Carpet Guard of Honour by the Presidential Guard at the sprawling lawn overlooking the palace and he was accorded a Military Presentation of Arms.
Thereafter, the Credential Ceremony took place in the President's Office and President Dr. Mohammad Ashraf Ghani accepted his credentials as an Ambassador of the Democratic Socialist Republic of Sri Lanka in Afghanistan in the presence of Minister of Foreign Affairs Salahuddin Rabbani, Chief of Protocol Ahmad Jawid Mujavidi and other senior palace officials.
Following the presentation of credentials, a 30 minutes audience was granted with the President of Afghanistan with the Minister of Foreign Affairs, Chief of Protocol and other senior palace officials being present.
The discussions were mainly focused in improving and enhancing bilateral relations and cooperation between the two countries and also improving trade and commerce.
The Ambassador also conveyed the greetings of President of Sri Lanka Maithripala Sirisena to President of Afghanistan Dr. Mohammad Ashraf Ghani. The Afghan President reciprocated his greetings to President Maithripala Sirisena.
A memento was presented to the President of Afghanistan.
[ad_2]

Source link