[ad_1]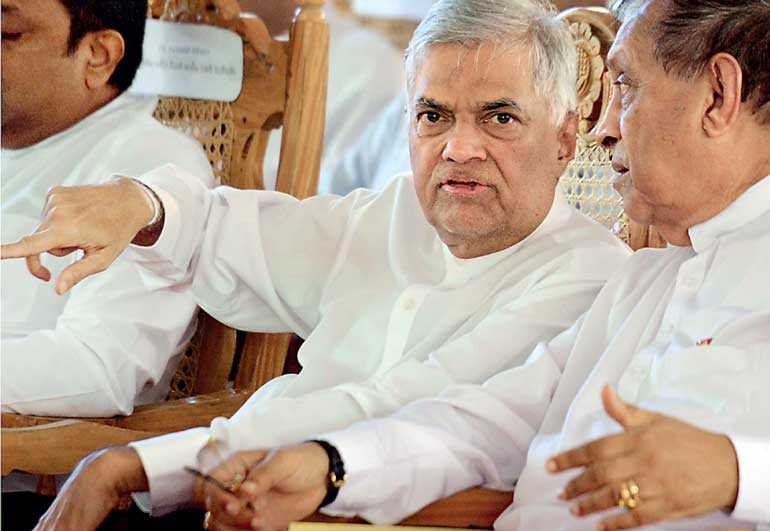 Prime Minister Ranil Wickremesinghe, who was the chief guest at the laying of foundation stone to the new trilingual national school in Meerigama, in conversation with Speaker Karu Jayasuriya at the ceremony. Minister of Education Akila Viraj Kariyawasam was also present at the function  – Pic by Pradeep Pathirana
Says each party will have to make decision on Executive Presidency
Stresses views of each party should be presented to public, final decision with the masses 
Insists abolishment is an issue and parties have responsibility to discuss it openly 
Says Speaker has come forward to protect rights and abolish executive presidency 
Claims President wanted to discuss 20A at Cabinet
Acknowledges passage in P'ment impossible without MR support 
Prime Minister Ranil Wickremesinghe yesterday said that each political party would have to take a decision on the fate of the executive presidency and present their options before the public so that citizens can make a final decision. 
He also said President Maithripala Sirisena had proposed discussing the 20th Amendment at the suddenly summoned Cabinet meeting on Thursday, and as a consensus could not be reached, each political party would now discuss the issue within their own ranks before talks could proceed any further.
Speaking in Meerigama, the Prime Minister defended the decision to discuss the 20th Amendment at the Cabinet meeting, pointing out that it was an issue that no one could move away from and abolishment of the executive presidency as it remained a focus in the public. 
"Speaker Karu Jayasuriya has come forward to protect the people's rights and abolish the executive presidency. We achieved this partially through the 19th Amendment, now we have to complete the rest. With the declaration of the Presidential Election it is not surprising that different organisations are questioning about the executive presidency. This is a problem that exists in the country today.
"At the beginning of this week, civil society organisations and others called for the 20th Amendment to be passed. While I was not present at these discussions, I heard about them. On Thursday the President called me, suggesting that the 20th Amendment be discussed in Cabinet. I agreed as we had not discussed it within our parties. But before this, I called our parliamentarians and they expressed diverse views. So I told the President there were different views here and I'm not certain of consensus." 
The Prime Minister went onto say that after the Cabinet meeting, different parties agreed to continue the discussion. However, he acknowledged there is a challenge to getting the 20th Amendment passed in Parliament as it requires a two-thirds majority, which could not be achieved without the support of parliamentarians supporting Opposition Leader Mahinda Rajapaksa. 
"It is our duty to discuss this issue openly. We cannot stop the discussion just because the election is coming up. Civil society can continue discussing this with me. Each party will have to take a decision on the abolishment of the executive presidency. We need to be transparent about this and talk openly so that options can be presented to the people. The final decision will be made by them," he said.
[ad_2]

Source link