[ad_1]

Says currency crisis due to inheritance of debt economy from past regime
Urges need to shift towards export economy
Explains currency depreciation not unique to Sri Lanka, but happening world over 
Says Govt. already in discussion on strategies to address the situation
Reiterates Govt. will overcome latest crisis like it had resolved past issues
Says no cutbacks in Health and Education funding 
Prime Minister Ranil Wickremesinghe has urged the need to move towards an export economy from a debt economy, which the Government inherited due to ill-conceived policies of the previous regime.
"We are facing a currency crisis because we have inherited a debt-oriented economy. We need to move towards an export economy," the Prime Minister said, speaking at a ceremony in Nattandiya on Saturday.
It was pointed out that the appreciation of the US dollar has adversely affected the country's economy, and the Government has already initiated necessary action to face this crisis successfully, he said.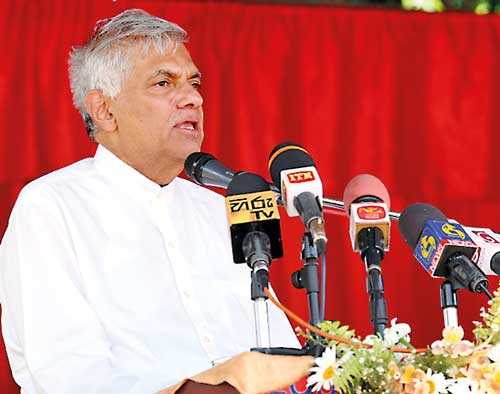 "Like the Government successfully resolved many problems since taking office, we will overcome the challenge posed by pressure on the rupee owing to external factors as well. We have many challenges due to the crisis faced by the global economy. We will not run away but face challenges and overcome those successfully," the Premier emphasised.
"We have to examine how this global economic crisis came about. In 2008 the dollar collapsed, depreciating in value. When this happened, the investors in the US stock market took their funds out to other regions. But now, this has changed," he said. 
The Prime Minister also highlighted that the US Government, under President Donald Trump, has implemented policies to boost industrial production, given relief to US citizens and companies, spending power has increased. 
Under such circumstances, profits of US companies have increased, he said.
Further, the US Federal Reserve had increased interest rates twice, making the US more attractive for investing of funds.
"So, what is the result of all this? Because there are better returns from the US stock market and in business in the US, the investors in our country are now taking their money to America," he explained. 
"This trend has resulted in depletion of dollar reserves in all our countries, and when this happens, our currencies get devalued. Now we have to face this challenge."
He further explained that this situation has affected many countries, not just Sri Lanka, adding that the euro has depreciated by 1.3%, pound sterling by 1.3%, Australian dollar by 6.5 %, Indonesian rupiah by 6.8 %, Korean won by 4.5%, Philippine peso by 7.5%, Indian rupee by 11 %, and the Malaysian dollar and Singapore dollar by 1.6%. On the other hand the Sri Lankan Rupee had depreciated by only 9%.
He assured that despite many challenges, the Government will not cut down on State funding given for Education and Health. Additionally several programs, including Gamperaliya, Grama Shakthi and Enterprise Sri Lanka, had been launched to develop the rural sector.
[ad_2]

Source link