[ad_1]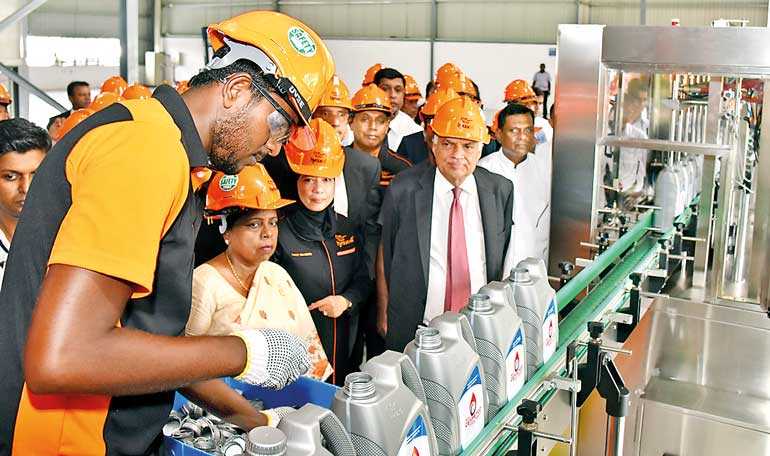 Prime Minister Ranil Wickremesinghe inspects the operations of the Hyrax Oil plant yesterday. Highways and Road Development and Petroleum Resources Development Minister Kabir Hashim, Petroleum Resources Development Deputy Minister Anoma Gamage and Hyrax Oil Managing Director and Founder Dato Hazimah were also present  – Pic by Ruwan Walpola
Says as macroeconomic fundamentals are stable next target is to attract investment, create jobs 
Outlines plans for new projects including renewable power cable to India, coal power plant 
Says Govt. has gone to markets to raise up to $ 2 b in bonds, RW confident of lower interest rate
Prime Minister Ranil Wickremesinghe yesterday assured he would lead the charge for stronger investment in the future to fast track economic growth and create new jobs outlining ambitious plans for a host of new investment projects including a renewable power cable to India. 
The Prime Minister made these statements while attending the opening of the Hyrax Oil SDN BHD Lubricant Blending Plant in Muthurajawela, which is a $ 30 million investment by Hyrax Oil. 
The plant is targeting 4 million litres of lubricant per month, which will largely be sold by the Ceylon Petroleum Corporation (CPC).  
"People expect a good economy and we must deliver. There is no point in talking politics and scolding other people. It is acceptable to be scolded after doing the right thing. But we must do the right thing. That is why this Government has achieved results even during a difficult economic period and aims to fast track growth in the future," he told the gathering at the opening.  
Wickremesinghe also outlined Government plans to build three LNG plants approved by the Central Environmental Authority (CEA) and Public Utilities Commission of Sri Lanka (PUCSL). New plans are also underway to construct another LNG plant, renewable power cable to India and coal power plant.     
Wishing the project investors well the Prime Minister pointed out that South Asia will become a major draw for international investors as its population grows. He noted that Sri Lanka should work to take advantage of these opportunities and attract technology oriented investments to the country.  
"These foreign investments are useful to us. We have had industries for a long time but few have become global contenders. Before the open economy we and Malaysia were equals but because of a 30-year war we fell back in development. Singapore and Malaysia moved forward and are now huge economies. When the war ended we were on par with Vietnam but even though the war ended we did not move forward. Instead there were large-scale infrastructure projects based on borrowing that resulted in debt." 
"After we came to power we slowly built the economy and even though we have to borrow we now have the capacity to repay those loans. In the last two months we needed $ 2 billion and today we are asking for that money from London and New York. Many warned us not to go to markets after the Easter Sunday attacks but we nonetheless moved forward. The markets in the US have not yet closed but we are confident we will be able to raise the money at lower interest rates because international markets still have confidence in Sri Lanka. So we have enough funds to refinance debt because the international community has faith in our economic policies and the strength of our macroeconomic stability," he said. 
While acknowledging that the last four years have been challenging Wickremesinghe nonetheless insisted that the Government had focused on socially important projects such as making the nearest school the best school, give free stents, launching a student insurance scheme and developing village level infrastructure. 
Referring to past achievements of United National Party (UNP) governments Wickremesinghe also recalled that they established investment zones in Biyagama, Katunayake, Koggala and Seethawaka. New zones would also be established to draw investment, he added.  
"We also managed to establish investment zones and set up factories. But what are the tangible benefits? We managed to fill Biyagama in less than 10 years, in eight years we filled the Seethawaka free trade zone, Katunayake and Koggala. As a result of that the young generation no longer expect to make a living off farming or fishing. They aspire modern jobs, this is what they demand from the Government now, which is their right. In the next five years we must push forward and bring technology-related investment projects to this country. They must be cutting-edge industries so that if a worker is employed here in five years they can work anywhere in the world. We must make Sri Lanka a hub." 
[ad_2]

Source link