[ad_1]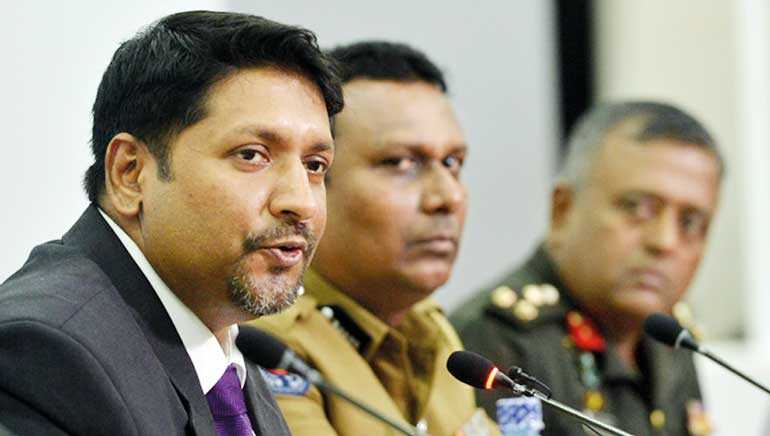 State Minister of Defence Ruwan Wijewardene talking to media while Police Spokesman SP Ruwan Gunasekera and Military Spokesman Brigadier Sumith Attapattu look on – AFP 
 
 
State Minister of Defence says splinter group leader possibly Shangri-La attacker 

Possibility of NTJ leader also being involved, still trying to confirm in'tl links 

Perpetrators were well-to-do, educated 

Two motorcycles, 1 parcel dispatched in controlled explosions  

Death toll rises to 359Â 

60 arrested with 32 detained by CID, 4 with TIDÂ 

President calls for resignations of Defence Secy and IGP

Sirisena to hold All Party Conference and All Religious Conference today 
By Chathuri Dissanayake and Uditha Jayasinghe 
The Government yesterday said a new splinter group of the National Thowheed Jamath (NTJ) had been identified as having links to the Easter Sunday attacks, as the number of arrested grew to 60 and the death toll rose to 359, with the country's security remaining on high alert. 
The number of arrested rose to 60 on Wednesday with 32 of them in Criminal Investigation Department (CID) custody. Investigations were mainly being conducted by the CID and it has confirmed that nine suicide cadres were involved in the bomb blasts. Out of the nine, the CID has identified eight of them, said Police Spokesman Ruwan Gunasekera. Four suspects were also detained by the Terrorism Investigation Department (TID).
A well-known businessman in the spice trade named Mohamed Ibrahim was confirmed by Police to be in custody after his two sons were found to have been among those who carried out the attacks. The two brothers were the suicide bombers who blew themselves up at two of the hotels, authorities said.
The woman who was involved in the Dematagoda explosion has been identified as the daughter-in-law of Mohamed Ibrahim.
Throughout the day security remained on high alert, with law enforcement authorities conducting controlled explosions on two motorcycles and one parcel. The motorcycles were let unattended at Wellawatte bridge and Gas Paha junction while the parcel was left in Katana. 
The Police have informed the public to leave their contact details attached to their vehicles when they are parked so owners can be contacted during patrols. Curfew was reposed till 4 a.m. on Thursday and restrictions on social media continued into the fourth day. State of Emergency was passed by Parliament without a vote.
President Maithripala Sirisena also called for the resignations of Defence Secretary Hemasiri Fernando and Inspector General of Police (IGP) Pujith Jayasundara. However, Sirisena only has the power to sack the Defence Secretary. The President will also convene an All Party Conference at 10 a.m. and an All Religious Conference at 4 p.m. on Thursday.
State Minister of Defence Ruwan Wijewardene said investigators had identified a group that had split from NTJ as having connections to the Easter Sunday attacks at three churches and hotels which left 359 people dead and over 500 injured. 
"From what we gathered, there are two groups in the National Thowheed Jamath. There has been a group that has split from the main body. It is not confirmed when this split happened. That is the group that has become quite extreme and from what we have gathered their thinking is that only Islam can be the religion in this country. That has been their extreme view. This is why they have carried out the atrocity. We believe that the leader of this group has also died by suicide in carrying out the attacks,†Wijewardene told reporters.
However, Wijewardene also said it was possible that the leader of NTJ, who is a man identified as Zaharan Hashim, could have been one of the suicide bombers after his image appeared in an Islamic State video that claimed the terror group had carried out the attacks in Sri Lanka. He said the leader of the splinter group had died by suicide at Shangri-La but did not give a name. 
"The leader of this splinter group has died by suicide in the Shangri-La Hotel bombing. We are conducting investigations on whether they are others involved with this group, not restricted to the suicide bombers. We have to find out how many others are involved.â€Â       
Wijewardene also declined to confirm whether local investigations were able to confirm any IS involvement, saying investigators were still trying to find out if there was any funding or other support given by the terror group. He also said that according to findings the suicide bombers were well-to-do and at least one was well educated and had lived outside of Sri Lanka.   
"We are conducting those investigations to see if there is a direct link to an international organisation. Right now IS has claimed responsibility, what I can say is through ideology and maybe funding, but on that funding part we are conducting investigations to find out if they were funded. What I can also say about this group of suicide bombers is that most of them were well-educated and come from middle or upper middle class, so they are financially independent and their families are quite stable financially. That is a worrying factor in this. Some of them studied in other countries, they hold degrees and were quite well-educated people.â€Â 
He also reiterated that the attacks could have been motivated by the Christchurch attacks, though he acknowledged planning would have begun much earlier. The Christchurch attacks may have provided an opportunity for them to focus their preparations, he added.
"According to the assessment done by the intelligence, they believe this is a reprisal, that the Christchurch incident motivated these guys to carry out these blasts on Easter Sunday. This group was involved in vandalising a few Buddhist statues and had attacked some temples and a church as well, but they were not to this level of magnitude. They were small attacks. For them to take this kind of action on Easter Sunday, our intelligence personnel believe that they were motivated by the Christchurch event.â€Â 
Investigators had also found two safe houses in Negombo and Panadura, which the State Minister stated indicated that there was longer term planning involved. He also noted that the relatively small size of the country also aided the culprits in their planning. 
He also revealed that Sri Lanka is working with other intelligence agencies, including India. 
"Our intelligence agencies have many links with other intelligence agencies from other countries, so I think there has been information given and our intelligence has been briefed and officials have been notified about a possible attack, but due to some lapse in security arrangements, most of the officials were not notified, including me. The Prime Minister was not notified about this, which was very unfortunate. There has been a lapse in that regard, but the President has come back and he has promised to make necessary inquiries to why there has been a lapse in sharing of information.
"The US Government is providing help to our intelligence services and the CID is in contact with the FBI. There are other intelligence services, from Australia, Interpol and the UAE willing to provide intelligence services to the investigations.â€
He also said the Government had initiated surveillance on families of people who had left to join IS in Syria, but was caught unawares by the sheer scale of the attack.  
"For the last three four years, we have been looking at possible infiltrates in Sri Lanka. There have been some people who have travelled to Syria to take up the cause, their families have been under surveillance. Until Easter Sunday it was being monitored but we didn't know, at least I didn't know, this was going to go to this scale.â€
[ad_2]

Source link