[ad_1]

Welcomes FTAs, but insists on properly-formulated International Trade Agreement Policy
Calls on Govt. to revisit FTAs signed before, analyse whether SL benefited or not
Says country losing money means citizens losing
Insists properly-formulated trade policy will be biggest reward for citizens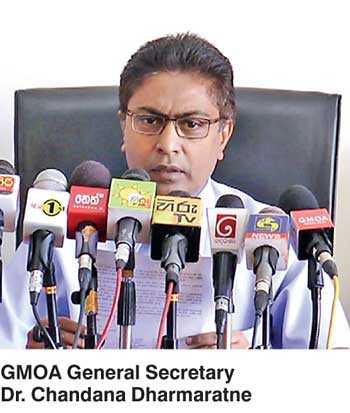 By Charumini de Silva
The Government Medical Officers Association (GMOA)  this week called on the Government to develop a properly-formulated International Trade Agreement Policy before entering into Free Trade Agreements (FTAs) with any country to ensure Sri Lanka's interests are well protected.
"It is not saying no to a FTA, but no FTAs without a properly-formulated national trade agreement policy. If Sri Lanka can have a proper policy on international trade, we can go for FTAs without any worries and be able to develop this country in a way that benefits our citizens," GMOA General Secretary Dr. Chandana Dharmaratne said, addressing a forum titled 'Bringing skilled foreign workers into Sri Lanka; is it a viable option?' organised by the National Human Resources Development Council (NHRDC) together with CA Sri Lanka and the International Chamber of Commerce Sri Lanka (ICCSL).
Changing tune from the usual, he pointed out that FTAs could help develop the countries and cited Vietnam as a great example within the region. However, he emphasised that they were able to do so as they had a solid International Trade Agreement Policy, which Sri Lanka is lacking.
He said GMOA and other professionals groups which were together with them were highly concerned about the Government singing FTAs without a proper policy and insisted that it was the duty of those who are signing on behalf of the country to obtain the maximum from the agreement for the country and its people. 
"A properly-formulated International Trade Agreement Policy should have a mandate and should be formulated in a transparent manner, those involved in formulating it should not have any vested interest and the policymakers should take into account the concerns of the citizens of this country," Dr. Dharmaratne stressed. 
If Sri Lanka forges ahead with more FTAs without a proper policy in place, he cautioned that the country would be at the losing end and citizens would suffer.
"Unless we strive to get the best out of the FTAs for our country via our negotiators, we will lose. A FTA should at least be 50:50 beneficial to both countries, but for that we need a transparent, properly-formulated policy. We should also consider signing agreements with relevant countries according to the policy and mandate given," he added.
The GMOA General Secretary also asserted that the Government should revisit FTAs Sri Lanka has signed before and see whether the country had benefited from them or not. 
"The country losing money also means that its citizens are losing," he pointed out.
Dr. Dharmaratne said if the Government could formulate a sound International Trade Policy, which would be beneficial for its people, it would be the biggest advantage it could give to Sri Lanka. 
"A properly-formulated International Trade Agreement Policy will be the biggest reward the Government can give this country and the policymakers will be remembered for ages," he stated.
[ad_2]

Source link