[ad_1]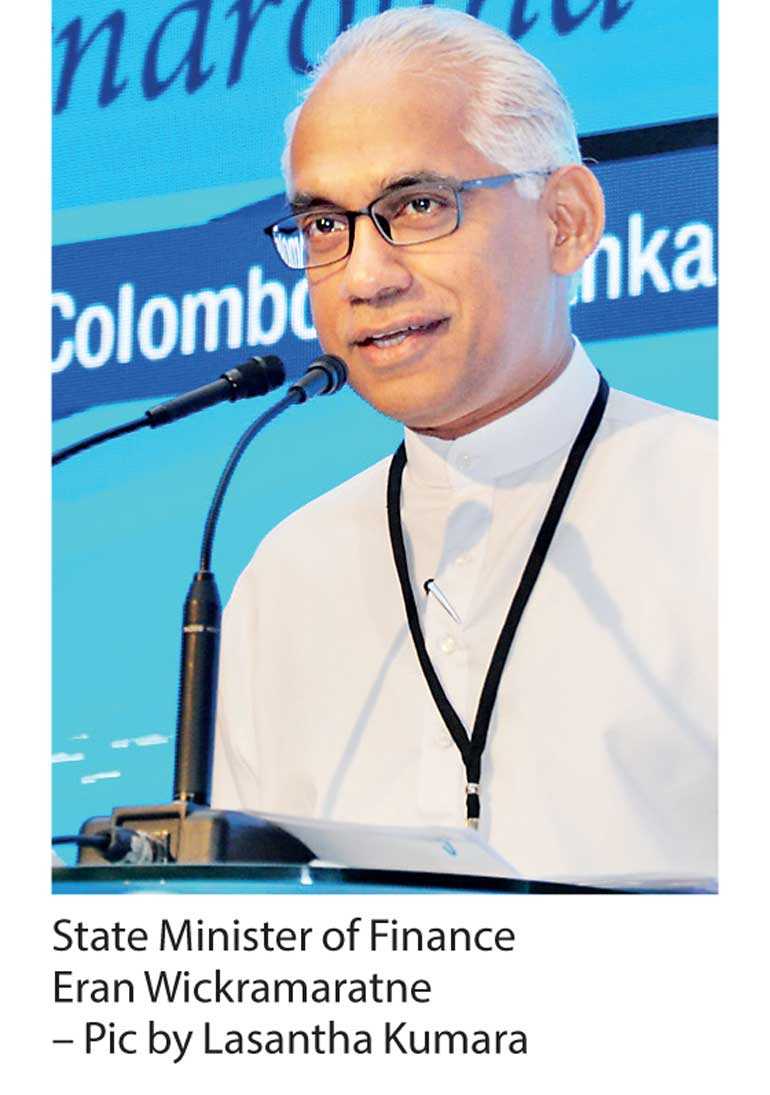 Defends Govt. policy, says macroeconomic fundaments have improved 
No deviation from fiscal consolidation but says sensitive issues need consideration   
Concedes political realities have intruded, major FDI has proved elusive    
Believes top priority of new president should be public sector reform 
Insists Sri Lanka knows where it is heading, capable of making right decisions    
 By Charumini de Silva 
Despite global challenges, twin deficits and slow growth, the Government remains dedicated to its reform policies centered on fiscal consolidation and liberalisation, State Minister of Finance Eran Wickramaratne said yesterday, ruling out a change of direction. 
Speaking at the Sri Lanka Economic Summit titled 'On the fast track to a turnaround', organised by the Ceylon Chamber of Commerce (CCC), Wickramaratne acknowledged that significant challenges remained for the Government as it headed towards elections next year. Displaying a frank perspective of the situation faced by the Government as it attempts to stick to its fiscal consolidation process in the midst of slow growth, political uncertainty, high interest rates, appreciating dollar, rising oil prices and weather woes, Wickramaratne counselled the private sector to take a long-term perspective.       
"We will not divert from fiscal consolidation because we think that we need to look at the vulnerabilities and take a much longer perspective. Given the reforms that we have undertaken in 2017 the macroeconomic indicators are doing better, budget deficit and inflation are trending down, while reserves and exports are up," he said. 
However, the road has been hard, he conceded, noting that the narrower fiscal space had resulted in fewer opportunities for economic expansion. He also agreed with the fellow panellists who were present at the conference who pointed out that attracting significant Foreign Direct Investment (FDI) remained elusive for Sri Lanka, despite nearly a decade of peace and attempts to improve its standing in the Doing Business Index rankings of the World Bank.    
"Looking at some of the measures taken since 2015 in terms of reforms, one of the casualties has been the growth rate because of the other fiscal discipline that has been put in place. Sri Lanka is in a more vulnerable situation because of the twin deficit we face. In 2015 the budget deficit as a percentage of the GDP was in excess of 7%, while it has now come down to 5.5% and we hope it will go below 5% in 2018."
Political realities have also intruded on the path to reform with elections around the corner forcing the Government to make concessions and shift policy trajectory, however minutely. Wickramaratne praised the 'Enterprise Sri Lanka' program of Finance Minister Mangala Samaraweera, touching on the importance of creating entrepreneurs and calling for more support as the Government and banks would eventually have to limit their reach. For the State Minister, Sri Lanka's current economic challenges were the result of decades of imprudent policy decisions, which could not be turned around by one government in the space of five years.       
"Politicians will have to think about the next election. This is the conflict that we are facing immediately. This is what the Finance Minister is grappling with over the next few weeks. Sri Lanka has over time unfortunately made the wrong decisions. Unlike a single-party government, under a single mandate which is able to take unilateral decisions, unity governments sometimes by their nature have re-visitation." 
"Looking at reforms there are a lot of sensitive issues we need to look at. But as politicians we don't want to talk about them because they are so sensitive. We don't have a decade, we just have a few months before the next election," he added. 
Matters have not been helped by private sector groups lobbying for tax concessions and other relief, Wickramaratne went on to say. Nonetheless, the Government has made an effort to maintain policy consistency and stick to crucial reforms such as the Inland Revenue Act (IRA), which was implemented earlier this year.   
"We have to understand the benefits of competition, not protection. Most people who come to see us generally want their industries protected. Our exporters have done extremely well, so we can compete. We must compete. There is no other way for this country to grow unless we are ready to compete, we have to access larger markets. We have to be the gateway to the South Asian market."
"We have undertaken tax reforms, but we will be removing para tariffs over the next period. I know that will mean competition from a airport development levy to cesses. We are going in that direction." 
Such reforms would have to be supported by the public sector, which remains a critical facilitator of economic growth, Wickramaratne emphasised.  
"Public sector reform I believe should be the number one objective of the new President's mandate."
Responding to a remark made by International Monetary Fund (IMF) Resident Representative Dr. Eteri Kvintradze on how Sri Lanka should know where it was headed because otherwise it may end up somewhere other than its goal, Wickramaratne insisted the country was aware of where it was heading and it was for Sri Lanka to figure out its own destination. 
"This is our economy and this is our country. We think we know where we are going and we will make sure that it goes in that direction." 
Reform window still open: Expert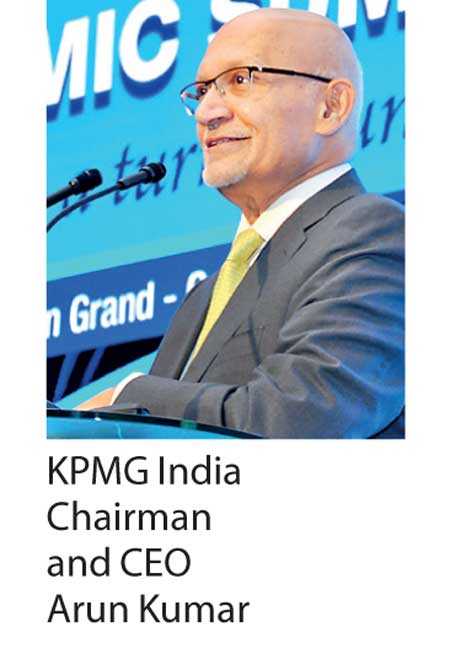 KPMG India Chairman and CEO Arun Kumar believes leadership should place relentless focus on execution 
Sri Lanka's current economic environment offers a window of opportunity for implementing crucial structural reforms and advancing towards greater competitiveness, KPMG India Chairman and CEO Arun Kumar said yesterday.
Speaking at the Sri Lanka Economic Summit organised by the Ceylon Chamber of Commerce, Kumar pointed out that despite significant productivity growth in the post-war period, it has been challenging for Sri Lanka to diversify exports resulting in its share of global trade declining gradually.
Unlike its East Asian neighbours, Sri Lanka's export structure has been static for years, he said, reflecting a lack of competitive forces to drive trade dynamism, innovation, and diversification.
"Reforms to ease the business environment and trade, now at the early stages of implementation, can become catalysts and enablers for accelerated growth. Other countries that have pursued infrastructure scale-up have learned that business environment liberalisation is also required for private sector-led growth."
"To this end, the current economic environment offers a window of opportunity for evaluating structural weaknesses and working towards enhancing competitiveness," he added.  
The Government's focus on making the country more open to the world could pay dividends in this environment, he noted. "The key, as we have seen in India, is that the leadership places relentless focus on execution. Sustained commitment will be required to see reforms through."
Touching on Sri Lanka's geographical importance, Kumar pointed out that China, Japan, India and the US would continue to be key foreign players for the country.    
"Internationally, the Bridge and Road Initiative, into the designs of which Sri Lanka falls, has been viewed with suspicions by some that this global investment and lending program amounts to a debt trap for vulnerable countries around the world, fuelling corruption and autocratic behaviour in struggling countries. 
"It is important in this context for Sri Lanka to take a well-informed approach to also engage with the rest of the economies in the region." 
Finalising free trade agreements (FTAs) with many of the major regional powers over the next year or so would be desirable as balancing and enhancing measures, he advocated. These would be supported by further liberalisation measures the Government remains committed to. 
"Fiscal reforms to enhance sustainability of government finances and public infrastructure investments need to continue.  There is also a requirement to create a governance mechanism to implement projects successfully." 
"Legal frameworks, regulatory policies and strengthening the overall policy environment is imperative.  Engagement with the private sector to boost efficiency of infrastructure services can also be explored." 
[ad_2]

Source link