[ad_1]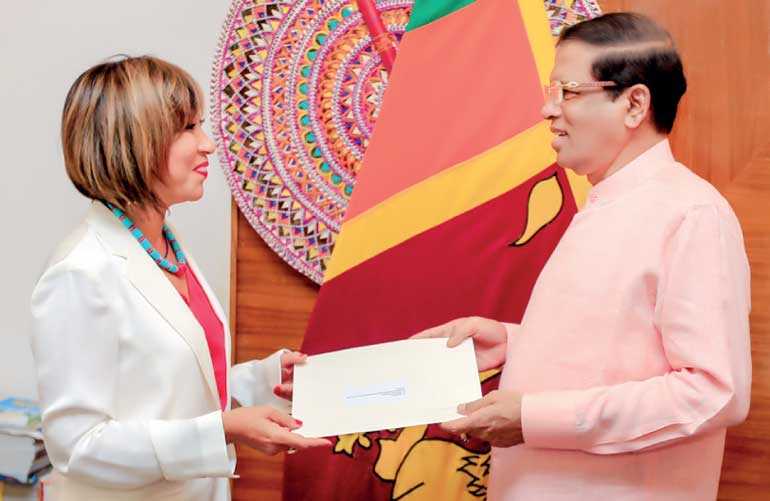 New UN Resident Coordinator and UNDP Resident Representative in Sri Lanka Hanaa Singer
New UN Resident Coordinator and UNDP Resident Representative in Sri Lanka Hanaa Singer has assumed duties as the new UN Resident Coordinator and UNDP Representative in Sri Lanka. 
She presented her credentials to President Maithripala Sirisena as the new United Nations Resident Coordinator and United Nations Development Program Resident Representative, at his residence on Wednesday. 
Singer also called on Foreign Affairs Minister Tilak Marapana earlier this week.
As the most senior UN official in the country, Singer will lead the UN Country Team of 22 Resident and Non-Resident UN Agencies and act as the representative of the UN Secretary-General in Sri Lanka.
Prior to this appointment, Singer held several senior management positions in UNICEF offices across the world, including Associate Regional Director UNICEF Geneva, as well as, Country Representative for UNICEF Syria, Nepal, Kazakhstan and Azerbaijan. 
She has led humanitarian programs in Burundi and Haiti, and managed cross border humanitarian operations to Afghanistan and Iraq among other areas. She has close to three decades of experience with the UN.
A national of Egypt, Singer holds a Master's degree in Political Sociology and a Bachelor's degree in Political Science from the American University in Cairo, Egypt.
Guided by the overarching strategy of the United Nations Sustainable Development Framework (UNSDF) 2018-2022, and Delivering as One, the UN in Sri Lanka aims to support the Government of Sri Lanka to achieve peaceful, just, inclusive and equitable development with a special focus on leaving no one behind and reaching the furthest behind first.
[ad_2]

Source link