[ad_1]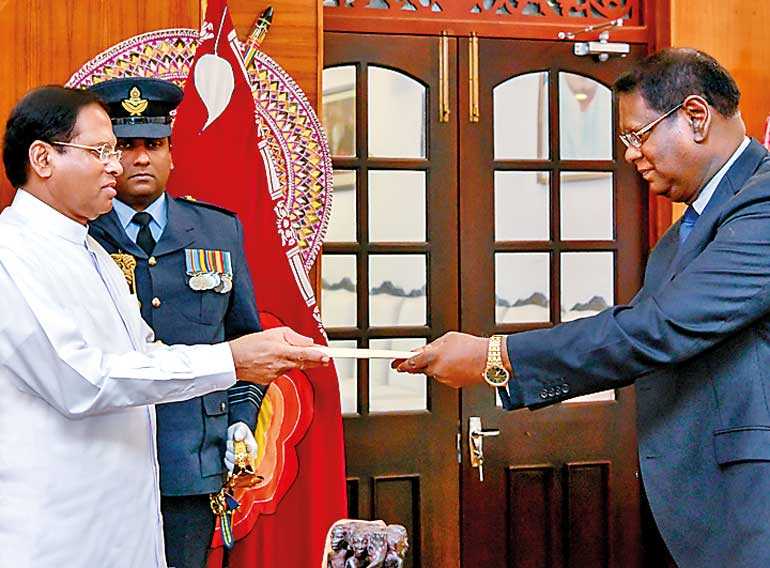 President Maithripala Sirisena presents the letter of appointment to the new Chief Justice Nalin Perera yesterday
Senior Supreme Court Justice Nalin Perera took oaths as the new Chief Justice before President Maithripala Sirisena at the President's Official Residence yesterday.
He was nominated by President Maithripala Sirisena to the Constitutional Council for post of Chief Justice on the retirement of Justice Priyasath Depp.
Nalin Perera joined the judicial service as a magistrate and gradually promoted to a Supreme Court judge by the President .
Earlier yesterday the Constitutional Council, headed by Speaker Karu Jayasuriya, which met for the first time after the appointing of its new members, approved President Maithripala Sirisena's nominee, Supreme Court Judge Nalin Perera, to be the new Chief Justice.
Justice Perera, who was a Senior Appellate Court Judge, took oaths as a Supreme Court Judge before President Sirisena at the Presidential Secretariat in March 2016 to replace Justice Sarath de Abrew. In October, Justice Perera was nominated by President Sirisena to the Constitutional Council for the post of Chief Justice upon the retirement of Justice Priyasath Dep. 
The HighOffice of the Chief Justice heads the judiciary in the island and the Supreme Court. Established in 1801 under the British rule, the position of Chief Justice is one of ten Supreme Court justices; the other nine are the Puisne Justices of the Supreme Court of Sri Lanka. 
The Chief Justice is nominated by the Constitutional Council and appointed by the President in par with the provisions of the Constitution. The first Chief Justice was Justice Codrington Edmund Carrington, and Justice Nalin Perera will be the 46th in a long line of Chief Justices. (AH) 
[ad_2]

Source link