[ad_1]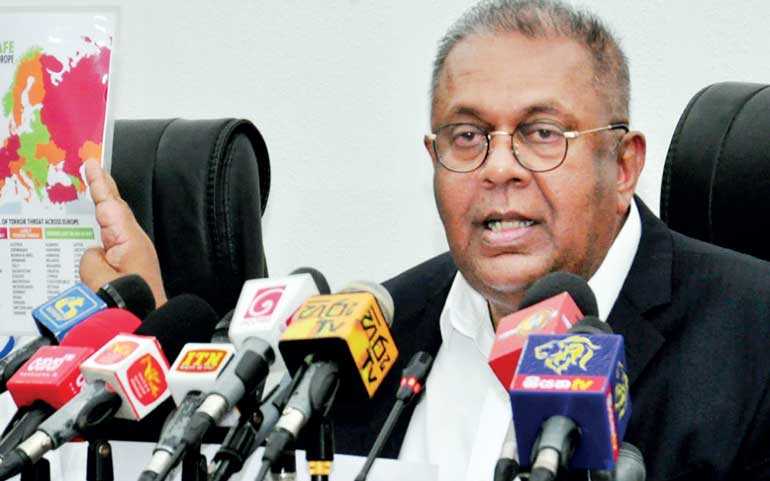 Finance Minister Mangala Samaraweera shows off a map depicting Global Terrorism Index at the media briefing yesterday – Pic by Sameera Wijesinghe
Says economy being strengthened; if terror attackers' motive was to destabilise, it will not materialise

Stresses quick restoration of status quo of 20 April; country's resolve hasstrengthened

Appeals to foreign businesses to believe in Sri Lanka's future growth potential, not abandonprevious plans of investment

Reveals days prior to Easter Sunday attacks, Govt. was finalising $ 1 b foreign investmen

t
By Charumini de Silva
Finance Minister Mangala Samaraweera yesterday expressed confidence that Sri Lanka can and will bounce back to being a stable economy, a high growth opportunity for foreign investors and an attractive destination for tourists. 
His optimism was after admitting that the unprecedented 21 April Easter Sunday terror attacks in the country that killed over 250, including over 40 tourists, was a 'setback'.
"Yes, the deplorable and cowardly act of terror is certainly a setback, but we will not give up on our efforts to further strengthen the economy, and also remain extra vigilant and step up security from now onwards," the Finance Minister emphaticallytold journalists in what was his first public briefing yesterday after the multiple attacks.
"We are confident, given the fact that the economy was being strengthened,that if the attackers' intention was to destabilise the economy, it will not happen," Samaraweera emphasised. 
To drive home his point, the Finance Minister said that "inflation in March was low as 2.9%. In February, trade deficit was the lowest in five years. In the first four months of this year, therupee appreciated by 4.5%,making it one of the three best performing currencies in Asia. Gross foreign reserves were $ 7.7 billion. The interest rate was declining as well.Exports and Foreign Direct Investments in 2018 were the highest ever."
Just prior to the attacks, the Development Strategies and International Trade Ministry was finalising a $ 1 billion FDI, revealed the Finance Minister. 
"I appeal to those foreign investors who were preparing to invest in Sri Lanka to go ahead with their plans and not reverse or abandon them. We will quickly restore the status quo of 20 April (prior to Easter Sunday), and our resolve has become stronger," Samaraweera stressed. 
Earlier at the media briefing,Samaraweera admitted that there were intelligence and security lapses, but international terrorism was overpowering, as evidenced by past and recent global terror attacks. He quoted a famous saying, "Terrorists only have to be lucky once, and governments have to be lucky all the time," which reinforces that the price of peace today is eternal vigilance.
At the media briefing, Samaraweera also showed a global map of countries facing risk of terror attacks (Global Terrorism Index), which showed developed countries in the West were at most risk and required greater global effort and cooperation.
The Minister alsoruled out misconceptions that the Easter Sunday attack would lead to a war situation in the country once again. He stressed that this would not arise, though security and vigilance would be heightened with local and global support. 
"Instead of blaming intelligence or the Government, which only weakens the country's preparedness, the people must unite and cooperate," Minister Samaraweera said.He said that the end of the conflict in 2009 saw credible efforts and success in restoring reconciliation and democracy. It was because of this fact that the world's attention was directed on the Easter Sunday attacks, as well as the support extended thus far. 
Samaraweera also opined that had this attack taken place during the 52-day period when the illegal Governmentwas still in office, similar global support wouldn't have been extended. 
He said that some political and other extremistgroups may want to capitalise on the unfortunate terror attacks, but the country needed to unite to defeat such efforts by ensuring ethnic harmony.He urged it was unfair to suspect all Muslims in Sri Lanka as terrorists because of the acts of an extremist group. 
"Muslims have lived peacefully for centuries and contributed to the country's development and must be protected," he added.
The Minister said that the Government would encourage the setting up of peace committees in every electorate to promote coexistence.  (CdeS)
[ad_2]

Source link