[ad_1]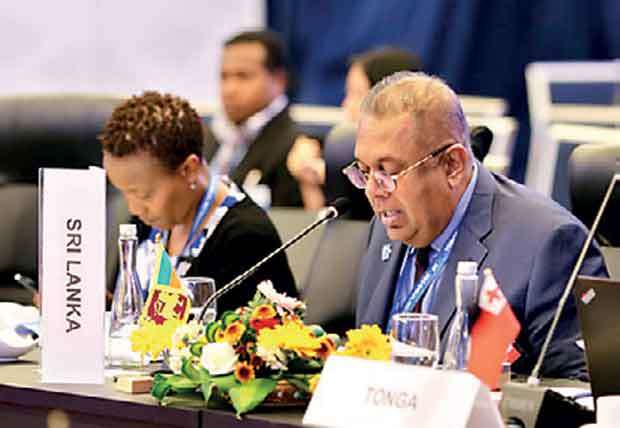 Mangala Samaraweera
Finance and Mass Media Minister Mangala Samaraweera yesterday appealed to the Commonwealth of Nations to redouble the efforts to support smaller nations to mitigate risks arising from increasingly frequent natural disasters in the backdrop of an uncertain global environment marked by trade wars and high energy prices. 
Addressing the Commonwealth Finance Ministers Meeting 2018 in Bali, Samaraweera pointed out that smaller nations are facing unprecedented challenges due to unpredictability of external factors in the global environment.
He pointed out that smaller nations have limited financial capabilities to invest in instruments to tackle these natural disasters.
"In an era where currencies and interest rates are volatile, mainly due to the unpredictability of external factors such as unprecedented challenges to the well-established international trading regime and the consequential effects of spiralling energy costs, natural disasters may push smaller nations towards uncontrollable economic chaos," he warned. He insisted the finance ministers of the Commonwealth to include financial risk when looking at vulnerabilities these nations face rather than taking a point of view limited to trade and commerce.   
Samaraweera emphasised on the importance of a well crafted out plan to enhance national capacity of smaller nations to mitigate adverse impacts of natural disasters. 
"In this context, Sri Lanka urges the Commonwealth to redouble its efforts and begin implementing a well targeted and thought out economic recovery plan to buttress the financial fallout of increasingly frequent natural disasters." 
The ministers are expected to discuss several tools to reduce their disaster risk including the proposed Commonwealth Disaster Risk Finance Portal that will serve as a 'one-stop-shop' for streamlined access to the numerous financing tools already being available.
Further, the ministers will also consider extending the Commonwealth Climate Finance Access Hub's advisory and technical support to cover disaster finance more widely, especially for smaller and more vulnerable Commonwealth countries.
That programme already has been instrumental in helping to mobilise more than 4 million euro for climate projects in various parts of the Commonwealth, with a further 140 million euro in the pipeline.
[ad_2]

Source link