[ad_1]

MP and former president Mahinda Rajapaksa has rejected claims made by his predecessor Chandrika Bandaranaike Kumaratunga on the provision of security.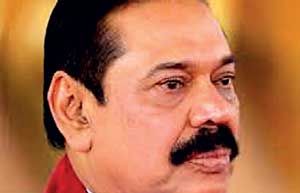 Following is the statement issued by Rajapaksa's Media Secretary Rohan Welivita.
A statement made by certain government politicians to the effect that former President Mahinda Rajapaksa had filed a motion in the Supreme Court to obtain an order reducing the security of former President Chandrika Kumaratunga has been given much publicity. We unreservedly reject that statement. 
Neither President Mahinda Rajapaksa nor the Presidential Secretariat nor the Defense Ministry filed any such motion. The case that is being referred to was filed by an NGO.
At a request made by former President Chandrika Kumaratunga, the then Secretary of Defence Gotabhaya Rajapaksa had gone to see her at her residence and after a discussion with her chief security officer, provided her with the personnel and necessary facilities. Despite the court ruling, no change was made in her security arrangements and the requests made by her chief security officer at various times, were always met.
Certain bankrupt politicians are making various statements aimed at justifying their own vengeful actions in the eyes of the public. Under this government, there have been several attempts to revive the LTTE. Earlier this year, a plan by the LTTE Diaspora overseas to use former LTTE operatives to assassinate a TNA parliamentarian was uncovered with several arrests being made. Two claymore mines which were to be used in the attack were also recovered. Dangerous LTTE operatives held in detention are being continuously released by this government. My government rehabilitated over 11,000 LTTE terrorists, and kept only a couple of hundred hardcore terrorists deemed impossible to rehabilitate, in detention. 
These are the operatives who were released by the government.  It is in such a backdrop that former President Mahinda Rajapaksa's security contingent has been reduced in numbers. I wish to emphasize that it is the bounden duty of the present President and Prime Minister to ensure the security of former President Mahinda Rajapaksa who ended the three decade long war.
---
MR's sister passes away 

 

Former President Mahinda Rajapaksa's younger sister Gandini Rajapaksa Ranawaka has passed away yesterday while receiving treatment at a private hospital. 
She was 58 at the time of her death. Her remains will lie at her residence in Ebuldeniya, Nugegoda. Her funeral will be held at the Udahamulla burial ground on Tuesday evening.
[ad_2]

Source link