[ad_1]

Largest IPO to be launched in Sri Lanka since 2015
Offer price of Rs. 10 per share is at 24% discount
Company raised Rs.951 million in private placement prior to IPO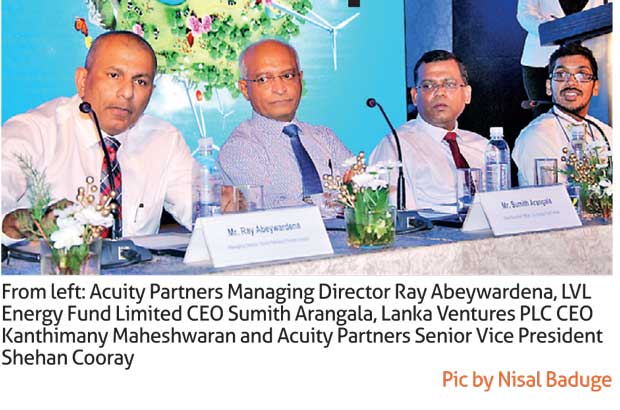 Leading energy company and a subsidiary of Lanka Ventures, the LVL Energy Fund, Limited officially announced a Rs.1.2 billion Initial Public Offering (IPO) yesterday to fund its strategic expansion and growth in the renewable energy sector.
The IPO will be the largest IPO listing in the country since the beginning of 2015. With 120 million shares being made available at Rs. 10 per share, the IPO will aim at raising Rs. 1.2 billion. 
The IPO price is backed up by an independent valuation carried out by Capital Alliance Partners Limited using a combination of SOTP (Some of the Parts) and PE (Price Earning) valuations.
As per SOTP valuation method and PE based valuation the independent valuer had arrived at a price of Rs. 13.18 per share but based on a sensitivity analysis has recommended a price range from Rs. 10.60 to Rs. 16.62 per share. 
Based on Rs. 13.18 value, the offer price of Rs. 10 per share is at a 24 percent discount which augers well for active secondary market trading following the IPO.
Lanka Ventures PLC, the parent company of the LVL Energy Fund is a subsidiary of Acuity Partners (Private) Limited, which is a joint venture between Hatton National Bank PLC and DFCC Bank PLC, two of the country's most respected financial institutions. 
The LVL Energy Fund is a limited liability company that invests in power projects across Sri Lanka, Bangladesh and Nepal. The fund will be the island's only listed company that has investments in thermal energy, as well as two key renewable energy sources; hydro and wind energy.  The company has a proven track record and has delivered dividends to its shareholders since 2010. The LVL Energy Fund has also delivered 47 percent year-on-year growth in earnings over last five years. In terms of fund size and overall size of the investment portfolio, LVL Energy Fund will be the largest amongst its peers in the stock market.
Commenting on the company's IPO, LVL Energy Fund Limited CEO Sumith Arangala said, "We are pleased to officially announce the LVL Energy Fund's IPO, which is expected to raise Rs.1.2 billion enabling us to invest in key projects that are an integral part of our strategic growth plans for the coming years. This is the largest IPO to be launched in Sri Lanka since 2015, and we are excited to be a part of the country's new era of economic growth and development."
Prior to this IPO on the Colombo Stock Exchange, the company successfully raised Rs. 951 million in the form of private placement. 
Of the Rs. 1.2 billion that is to be raised at the IPO, Rs. 720 million (60 percent of the funds), will be invested in three new hydro power projects; Rs. 255 million in two hydro power plants aggregating to 3.9 MW in Sri Lanka and the balance Rs. 465 million in a 10 MW hydro power plant in Nepal. 
The remaining part of the IPO proceeds amounting to Rs. 480 million will be utilized for settlement of debt which will improve company's borrowing capacity to finance more projects that are in the pipeline. Projects in the pipeline include two 10 MW wind power projects in the Jaffna Peninsula and one 100 MW thermal power project in Bangladesh.
[ad_2]

Source link