[ad_1]

President Maithripala Sirisena said that he hoped it would be possible to hold local government elections under a new electoral system this year.
The President made these comments at the closing ceremony of the March 12 Movement – which was created to bring about an improved political culture in the country – held at the BMICH last week.
Although local government elections were earlier held according to the electoral system, the inaction of the Delimitation Committee has caused the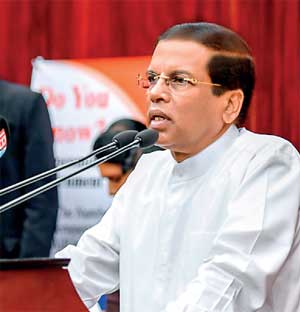 present issues.
The main reason for the postponement of the local government elections was the inability to finalise the limitations of electorates independently and impartially, the President said.
However, after the new Government came to power steps were taken to reappoint a Delimitation Committee. Regardless of the various allegations and accusations this was a necessary initiative to bring forth political and social reforms within the country.
He said he considered this as the first step for the transformation of the country and society.
With the 1978 Constitution, individuals not political ideologies became prominent he said, adding that the present local government election system was a victory for the people.
The 19th Amendment to the Constitution marks a revolutionary change. Under the previous Government, the President retained the sole authority to appoint judges, the Solicitor General, Inspector General of Police and Elections Commissioner. People voiced their concern against this and it paved the way for the 19th Amendment. 
Several ministers and members of the March 12 Movement attended the event.
[ad_2]

Source link