[ad_1]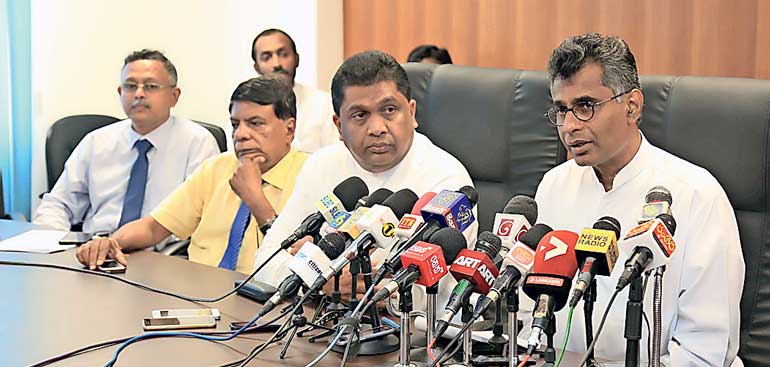 Megapolis and Western Development Minister Patali Champika Ranawaka yesterday claimed that there was no risk of an explosion at the Meethotamulla garbage dump, claiming warnings issued by the Japanese team of experts which conducted onsite visits had been distorted when communicated to the public. 
An expert panel, which was at the briefing held yesterday, comprising a number of academics from universities, claimed that there was no risk of an explosion as the level of methane was only 2%. According to local experts, the risk of an explosion is present only when it is at 5%. Further, the experts assured that the risk of slides had been minimised and managed. 
However, the carbon monoxide level is at dangerous level, increasing the risk of a fire at the garbage dump, Moratuwa University senior lecturer Dr. Mahesh Jayweera warned.
The Minister also revealed a 12-step strategy implemented through three committees – Expert committee, Engineering Committee and Steering Committee – which will be initiated from his ministry. These committees comprise experts from the Peradeniya and Moratuwa universities, other geological experts and all relevant Government departments, the Minister said. The Army will be responsible for executing the program at the ground level.
The contribution of Japanese experts will be sought only when it is essential, the Minister emphasised, saying that at present all work will be carried out by local experts. 
The experts were invited by President Maithripala Sirisena to give a report on the situation and assist the country to find a solution. It was earlier announced by Minister of Disaster Management Anura Priyadharshana Yapa that the Japanese team was to develop a master plan to effectively manage the garbage problem of the country. 
Within five months the expert committees appointed will be able to rehabilitate the garbage dump, Ranawaka said. 
"We will then decide the quantity of garbage to be removed and what project it is going to be utilised for," he said. 
"There is a threat of garbage collecting in three different cities in the country, the main sites being in Gohagoda in Kandy and in Gampola. Galle, Matara, Kalutara, Gampaha, Paliyagoda and Kelaniya are also reaching this level. The steps to be taken to address the situation will be decided by the three commitees and will be executed by the relevant authorities." 
---
President Maithripala Sirisena yesterday appointed a one-man presidential committee to investigate the causes that led to the Meethotamulla tragedy.
The President has appointed retired High Court Judge Chandradasa Nanayakkara to this committee.
[ad_2]

Source link