[ad_1]

By Chamodi Gunawardana
Criticising the Government for not paying compensation on time to victims of the Meethotamulla garbage dump collapse, the Joint Opposition yesterday demanded that the Government declare a specific timeframe for compensation for damage property.
Joint Opposition Leader MP Dinesh Gunawardena stressed that the Government must announce the exact compensation rates for the lives lost and the damage to houses and other buildings.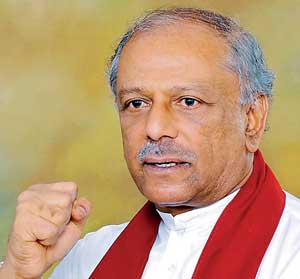 "The Government is still wasting time without stating a date to provide compensation to the Meethotamulla victims. The Government has even failed to settle the compensation process for the Aranayake and Bulathsinhala landslides victims. We have no idea why it takes this much of time to do so," he stated.
Furthermore, Gunawardena said that they were expecting compensation of at least more than Rs. 2 million for each victim since their lives were more valuable than that. 
"This Government has misused public funds to provide unlimited privileges to Cabinet Ministers and we urged it to spend these funds to pay compensation for this kind of disaster." 
"The Government should have a prepared and defined plan to take immediate action to respond to the impact of natural disasters and they should practise it without failure. However, the bitter truth is that the Government still doesn't have any plan to act in such circumstances even though it has marked its 2nd innings."
Meanwhile, MP Gamini Lokuge said that Megapolis and Western Development Minister Champika Ranawaka and Western Province Chief Minister Isura Devapriya were passing the ball to each other without finding an ideal solution to the capital's garbage disposal system.
"Those two are politically responsible for the disposal of Colombo's soil waste but they have been unable to come to a collective agreement to settle the matter." 
Lokuge said they too had attended some of the meetings held to discuss the issue, but these always ended without a solid outcome as the Chief Minister and the Minister could not come to an agreement.
---
With the intention of drawing the attention of the Government to the Meethotamulla crisis, former President Mahinda Rajapaksa has instructed his brother former minister and Sri Lanka Podujana Peramuna (SLPP) member Basil Rajapaksa to define a plan over how to provide assistance to those affected by the disaster at Meethotamulla.
SLPP sources said that the party had planned a program to help victims of the Meethotamulla garbage dump collapse since they believed that the Government was not paying adequate attention to support them.  
Sources further said that the SLPP already had a plan to provide school supplies to children who had lost theirs and to assist children who had lost their parents and family members to the tragedy. 
The SLPP also expects to receive the support of foreign employees to raise funds to assist the victims. 
[ad_2]

Source link