[ad_1]

A group of Japanese experts presented their report on the Meethotamulla garbage dump collapse to President Maithripala Sirisena and Prime Minister yesterday in separate meetings.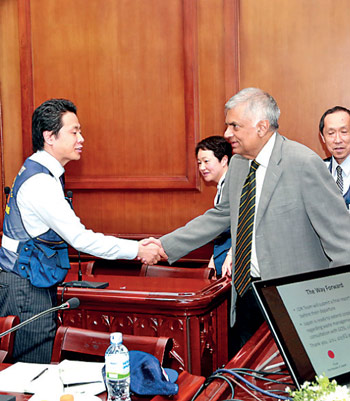 The head of the group of experts, Mitsutake Numahata, handed over the report and made a PowerPoint presentation explaining the recommendations of the group. He said as a short-term measure the garbage dump should be stabilised to ensure there will not be any further collapses. Before the onset of the country's monsoon, the shape of the dump should be streamlined and the base should be covered with polythene. As a secondary measure, the shape of the dump should be made symmetrical with a broad base to ensure the proper distribution of gravity.
The experts group also proposed long-term measures to remove the dump by adopting a 3R system of reduce, reuse and recycle. President Sirisena thanked the Japanese experts group for undertaking a comprehensive study within days of the disaster and said that the Japanese expertise would be useful to solve the major issue of garbage in Sri Lanka. 
He pointed out that although the Meethotamulla disaster began as a human tragedy, the garbage there had now caused a political issue. He highlighted the need for a lasting solution to the issue and sought the continued support of Japan in this endeavour.
Ministers Susil Premajayantha, Anura Priyadarshana Yapa and Patali Champika Ranawaka and Japanese Ambassador Kenichi Suganuma were also present at the occasion.

[ad_2]

Source link