[ad_1]

By Asnah Anver
The Government yesterday announced the safe and ransom-free release of the Sri Lankan crew members aboard oil tanker Aris-13 that disappeared off the seas of Djibouti in the early hours of 17 March.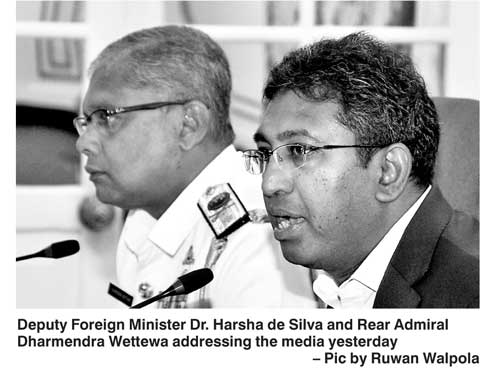 Speaking to the press, Deputy Foreign Minister Dr. Harsha de Silva said that the Government had commenced communications with officials of Puntland, a semi-autonomous region in Somalia, namely its President Abdiwali Mohamed Ali "Gaas" and its Chief of Staff Abdirahman Mohamud Hassan, following reports of hostilities and firing at the hijacked oil tanker by its naval forces. 
In particular, the Government's efforts were primarily focused on putting an end to the firing to create an environment suitable for a negotiated settlement between the vessel's management and the suspected pirates behind the hijacking, he said. Dr. de Silva added that following the Government's appeal to the Chief of Staff, Puntland officials had cooperated and ceased firing. 
Dr. de Silva did not comment on the details of the negotiated settlement between the managing company and the pirates. However, he said the Sri Lankan Ambassador in Dubai had met with the company in the UAE as well.
On Friday it was reported that the vessel had reached the Bosaso Port in Puntland. It is not immediately clear whether the Sri Lankan crew members will be directly heading back to the country, as the next course of action will be decided by the managing company. However, Puntland officials had assured the Government that the crew members will receive a medical examination before travelling on from Puntland. 
"This is also a reminder that some order in the Indian Ocean for maritime security is needed," Dr. de Silva said backing Prime Minister Ranil Wickremsinghe's suggestion that Sri Lanka should lead exploratory talk to discuss security in the Indian Ocean.     
Sri Lanka Navy Director General Operations Rear Admiral Dharmendra Wettewa and Ministry of Foreign Affairs Senior Director General Sudantha Ganegama Arachchi were also present at the press conference. Two relatives of the crew members were also gave their personal accounts. 
The Foreign Affairs Ministry in a statement expressed its appreciation to the President and Chief of Staff of Puntland for its corporation in securing the release of the vessel and crew, as well as "Government of the United States of America, the Ambassador of the United States of America in Sri Lanka, the Combined Naval Force in Bahrain, the EU, and all other Governments, organisations and individuals who extended their assistance in this effort, as well as all local Ministries, Departments, and individuals."
[ad_2]

Source link