[ad_1]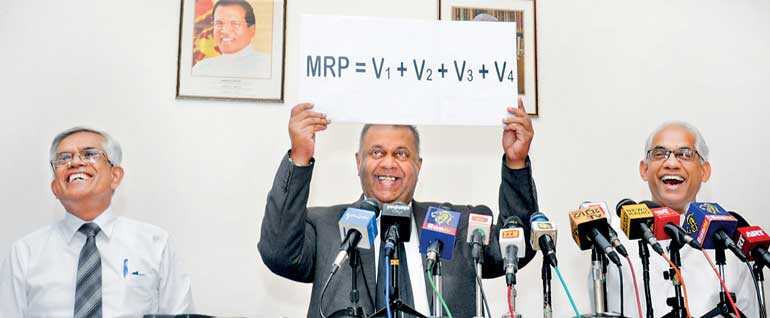 Finance Minister Mangala Samaraweera is all smiles as he holds up a sign with the fuel pricing formula yesterday at a special press conference. He is flanked by Treasury Secretary Dr. R.H.S. Samaratunga (L) and State Minister for Finance Eran Wickramaratne – Pic by Lasantha Kumara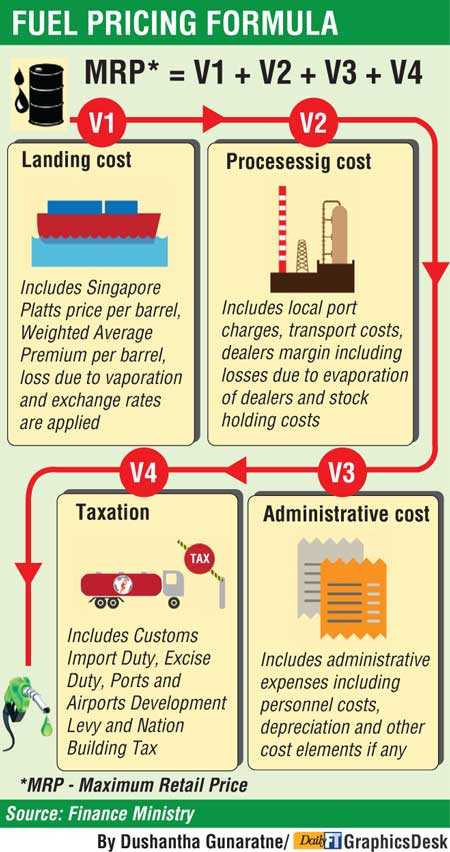 Releases complex fuel pricing formula 
Says local fuel taxes lower than many other countries, essential for revenue 
Insists making every effort to keep fuel prices moderate 
Restrictions on imports temporary
No intention of rolling back liberalisation policies 
Rs. 53 b released in last five months under Enterprise Sri Lanka  
By Uditha Jayasinghe 
Despite being buffeted by currency depreciation and higher fuel prices, Finance Minister Mangala Samaraweera yesterday fiercely backed the Government's liberalisation policies and insisted that all efforts were being made to keep the economy as even-keeled as possible. 
"It is clear that Sri Lanka's potential remains as bright as ever. Whilst we face a couple of challenging years ahead in the short term, we have built the necessary stability and safeguards to face up to these challenges," he said.  
"The future holds tremendous potential as Sri Lanka is at the heart of the fast-growing South East Asian region, and this government is putting in place the policies to leverage a greater external orientation of the economy."       
Releasing the complex fuel pricing formula to the public, Samaraweera pointed out that even though the formula called for upward price revisions, the Treasury had made all efforts to keep prices as low as possible.
"Every country around the world including oil producing nations such as the US and Saudi Arabia tax their fuel. This is important as it is a source of public revenue that is used to fund other socially important State expenditure. However, Sri Lanka has some of the lowest taxes on fuel in the region and every effort is made to keep fuel prices as moderate as can be done under the circumstances," he said.
The Minister noted that India imposes a 43% tax or Rs. 82.14 per liter of petrol and a 33% tax or Rs. 57.52 on diesel. Pakistan imposes a 38% or Rs. 29.93 tax on petrol and 58% or Rs. 49.68 on diesel. The UK imposes a tax of 61% or Rs.178.70 on petrol and 60% tax or Rs.180.27 on diesel. However, Sri Lanka only imposes a tax of Rs. 53.68 or 34% tax on petrol and 19% or Rs. 25.48 tax on diesel, according to data handed out to reporters by the Finance Ministry. 
The calculation of the maximum retail price of fuel was made by adding V1, V2, V3, and V4 components together, Samaraweera said. Even though the final calculation appears simple each of the components takes into consideration a wide variety of variables under different segments. 
For example V1 includes the Singapore Platts Price per barrel, the Weighted Average Premium per barrel, loss due to evaporation and exchange rate changes. 
V2 encapsulates local port charges, transport costs, dealer's margin including losses due to evaporation and stockholdings costs. V3 deals with administrative expenses of the Ceylon Petroleum Corporation (CPC) including personnel costs, depreciation and other cost elements. Taxes such as customs import duty, Excise Duty, Ports and Airport Development Levy and Nation Building Tax are included in V4. 
"Sri Lanka has very little control over international fuel prices. Much of that is decided by the actions of US President Donald Trump," Samarasinghe said. "In the past prices only moved in one direction, up. But under this pricing formula we are working to keep prices transparent so that if prices go down then that relief is immediately passed on to the consumer." 
Samarasinghe also argued that the Government had not passed on the historical losses of the CPC in this evaluation and expected to see a reduction in the State entity's debt eventually. Officials also noted that it was too early to see if there was any impact from the efforts to temporarily reduce imports. 
"If we wanted to stick only to the formula then on 10 October petrol prices should have increased by Rs. 9 but we raised it only by Rs. 6 while diesel should have been raised by Rs. 11. Diesel prices were not changed at all because we understand the impact that can have on the public. When this Government came into power in 2015 we reduced fuel by Rs. 33. We have always cared about the people," Samaraweera said. 
Addressing the Sri Lanka Retail Forum earlier in the day, Samaraweera presented a succinct picture of growing exports and investment balanced by a challenging external environment and higher debt repayments.  However, he was upbeat of the Government policies pointing out that a focus on entrepreneurship had resulted in Rs. 53 billion being disbursed under the Enterprise Sri Lanka program of which Rs. 5.2 billion was infused from public funds.                          
"We have also taken temporary measures to impose cash margins on vehicles and imports of selected high volume non-essential import items. I must stress that these are temporary measures that are being reviewed regularly. The external sector has begun to stabilise in response to the measures that have been taken – but we remain cognisant of global developments." 
[ad_2]

Source link