[ad_1]

---
Condemns racist activities including shop closures
Says racism only feeds more terror, recalls Muslims fought against LTTE terror
Police Committee to submit investigations report to P'ment in one month
Prime Minister Ranil Wickremesinghe yesterday said that the collective resignation of Muslim leaders was not a positive development for the country and pointed out this was the first time since independence that a Sri Lankan government was functioning without Muslim representatives.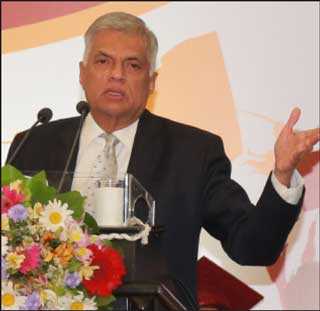 Prime Minister Ranil Wickremesinghe speaking at the BMICH yesterday
Speaking at the graduation ceremony of the Sri Lanka Institute of Development Administration at the BMICH, Wickremesinghe said that racism should not be allowed to raise its ugly head in Sri Lanka. Recalling that the Muslim community stood by Sri Lanka during the conflict with the LTTE and even now only a small number had been attracted by Islamic State ideology to carry out the Easter Sunday attacks, he reiterated that branding everyone in the Muslim community as terrorists would only give rise to more radicalisation and terrorism. 
"These days, people are going on marches for racism and forcefully closing shops and disrupting daily life. This is really hurting small-time business owners who have taken loans and are unable to carry out their daily sales.
 This is a serious problem and we must think about the consequences. By destroying inter-communal harmony, we are only creating more terrorists. There have been allegations made against former ministers and a new committee has been appointed to investigate the allegations. Within a month this report must be presented to Parliament and if evidence has been found, then they will be held accountable," the Prime Minister said. 
Wickremesinghe went on to assure the public that the Government had taken all possible steps to investigate the Easter Sunday attacks and fight terrorism. He requested the public to allow these investigations to move forward and to support them, especially as public employees. He also faulted the media for not giving sufficient information to the public on the efficiency with which the CID and other branches of Government were conducting the investigations to bolster public confidence.
The Prime Minister also pointed out that IS terrorism had been experienced by other South Asian countries and Sri Lanka was the only nation that had managed to escape it until this point.
[ad_2]

Source link