[ad_1]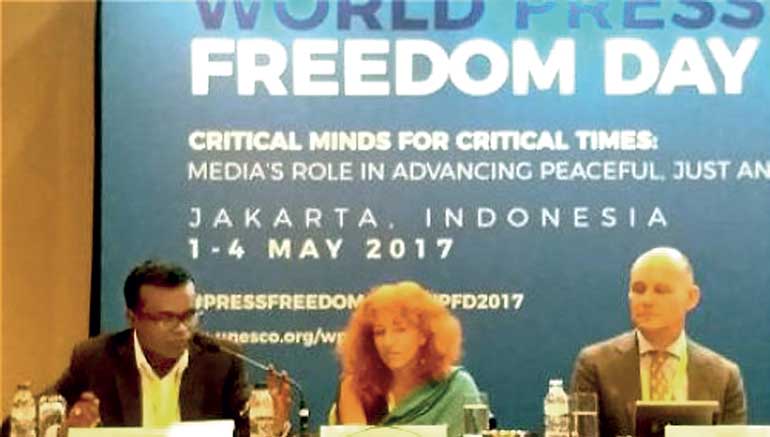 Jakarta: The Government of Sri Lanka is moving towards ensuring full media freedom while expecting high standards from the media as well, Deputy Minister of Parliamentary Reforms and Mass Media Karunaratne Paranavithana said.
"We are slowly but gradually moving towards ensuring full media freedom in Sri Lanka," the Deputy Minister said.
Addressing the World Press Freedom Day Conference in Jakarta Wednesday (3 May), the Sri Lankan Minister said the Government will seek high standards in media in Sri Lanka through the establishment of an independent media commission.
The Government is committed to the course of journalist safety and all efforts will be taken to end impunity, Deputy Minister Paranavithana said while addressing the panel on 'Journalists Safety and Tackling Impunity'.
Several legal cases have already begun against perpetrators who attacked media members and all possible measures will be taken to investigate all possible cases relating to media safety, he said.
"What we wanted first was a Government that respects democratic principles and values and we have achieved that in Sri Lanka. With that objective being achieved, we are stepping towards ensuring media freedom of which the safety of journalists is a cardinal element."
Citing the investigation into the murder of Sunday Leader editor Lasantha Wickrematunge, the Deputy Minister said that there are delays in the legal procedures but the Government is determined to bring culprits to book. Many such investigations have already started and many suspects are behind bars now, he said.
Equally, the quality of journalism must be upheld by all stakeholders. The Government is now working on establishing an independent media commission through a consultative process and many more steps will be taken to ensure the high standards of the media in Sri Lanka, he said.
The Government was successful in implementing Right to Information laws in Sri Lanka and the same inclusive procedures will be adopted in bringing in laws on media regulation, added the Deputy Minister.
[ad_2]

Source link