[ad_1]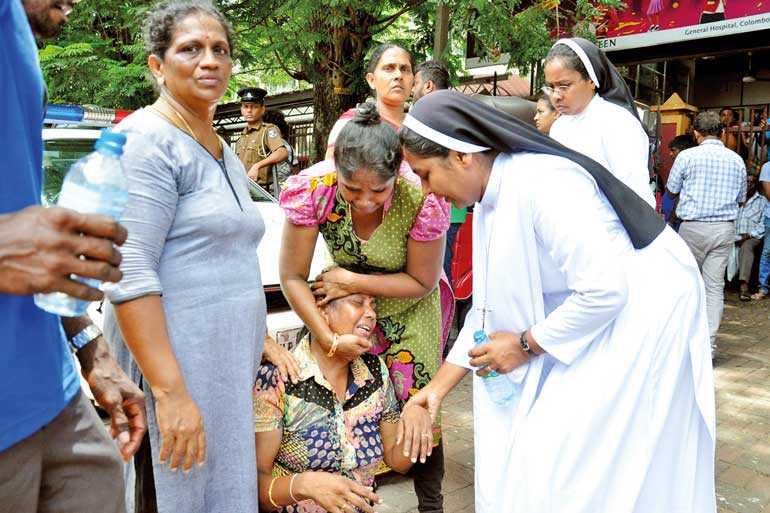 Two nuns attend to a grieving woman waiting outside the National Hospital after the attacks 
                                                                                                                                     – Pic by Sameera Wijesinghe    
Over 200 dead and nearly 500 injured in unprecedented terror attack 
Devastation at three churches and three Colombo hotels 
Govt. calls for calm, pledges tough action, promises compensation 
Indefinite curfew imposed, security tightened, Police leave cancelled, schools closed till Wed. 
PM says attacks could hit economic growth, tourism 
Colombo Crimes Division arrests 13 suspects; 10 handed over to CID for further questioning
By Uditha Jayasinghe, Charumini de Silva, Chathuri Dissanayake, and Ruwandi Gamage
Thirteen people have been arrested in connection with the string of blasts that tore through Sri Lanka on Easter Sunday, killing at least 207 people and injuring over 450, with most casualties from three churches and three hotels devastated by the attack. 
Six blasts targeting Easter celebrations were carried out within a span of 45 minutes, with no group or individual claiming responsibility so far. Within hours of the first six attacks, two more occurred – one in a small guesthouse in Dehiwala, and another in a housing complex in Dematagoda. 
One of the churches was the famous KochchikadeSt. Anthony's Church in Colombo, with two others in Negombo and Batticaloa. The Shangri-La, Kingsbury, and Cinnamon Grand hotels close to Colombo's scenic beachside strip, Galle Face, were also targeted. 
According to State Defense Minister RuwanWijewardene, several people have been arrested in connections to the attack. Subsequently, a van believed to have been used in the attacks was also taken into Police custody, along with a suspect, bringing the total arrested by Colombo Crimes Division to 13 at the time of going to press. Out of them, 10 suspects were handed over to the Criminal Investigation Department (CID) for further questioning.
Wijewardene also confirmed that the attacks in Colombo Church and hotels were suicide attacks. 
"Many of them are suicide attacks, we have not confirmed all details yet," he said, addressing heads of media at the Defence Ministry media centre yesterday evening.
Wijewardene also appealed to the media not to reveal names of those who are believed to be connected to the attack, or to refer to the organisations connected. 
"Do not publicise the name of the attackers, they will become heroes and be considered martyrs," he said. 
According to sources, C4 explosives are believed to have been used. However Police Spokesperson SSP Ruwan Gunasekara refused to confirm until further investigations are carried out. 
At the meeting, Defence Ministry Secretary Hemasiri Fernando acknowledged the existence of intelligence reports on possible attacks targeting churches, but insisted all preventive measures were taken by the State intelligence agencies.
 "We informed the police of possible attacks, and told them to be on alert, but we were not informed about any possible attack on any hotels," he said.
"The Inspector General of Police had informed police stations in those areas that something like this may happen. However, they are limited in what they can do in terms of security checks," Fernando added.
Prime Minister Ranil Wickremesinghe in a televised address later in the day also acknowledged that security forces had some prior knowledge of the impending attacks, but hinted that they were not properly communicated to the Cabinet or top members of Government. He nonetheless insisted that the priority of the Government was to apprehend those responsible, and end the network that is suspected, given the coordination of the attacks. 
Wickremesinghe was adamant that the Government would seek all assistance from within Sri Lanka and internationally, with assurances of support already given by India, Pakistan, and other countries.   
It was later learned that action was taken to beef up the security of VIPs, with Mano Ganesan confirming on Twitter. "A week before, my Ministerial Security Division (MSD) officers have been warned by their Division on two suspected suicide bombers in Colombo targeting politicians" Ganesan tweeted. 
With the attacks happening in quick succession, emergency services were in full swing, with ambulances rushing the wounded and dead to the National Hospital and other hospitals nearby, according to Police. 
Security was tightened around the country, including at the Bandaranaike International Airport (BIA), with travellers requested to arrive four hours before their flights and being assured their tickets would function as curfew passes. 
Travellers arriving at BIA on Sunday were met with extra military and police personnel at the airport, and had to move their luggage outside the departure terminals, after airport security requested all vehicles to leave the premises for security reasons. All Easter masses were cancelled, and schools have been closed on Monday and Tuesday. Buses and railway services to and from Colombo were also suspended on Sunday. Passengers have been requested to only have hand-carried luggage on public transport. 
"All Police leave has been cancelled, and the Government imposed countrywide curfew from 6pm and restricted access to social media, including Facebook, Twitter and WhatsApp,"stated State Minister for Defence RuwanWijewardene.
Security in Colombo has been increased, with over 1000 army personnel being deployed for security.
Shortly after the blasts, President Maithripala Sirisena, who is currently in Singapore, issued a short statement, condemning the attacks and calling for calm. Sirisena, together with Prime Minister Ranil Wickremesinghe, held a special discussion regarding the security situation with the participation of heads of security forces and all other departments. During that meeting, the Government had decided to take steps to tighten security at all religious places, tourist hotels, hospitals, and embassies, and provide security to all Catholic religious leaders and to important Government institutions, the President's Office said in a statement.  
"The President has instructed the Inspector General of the Police to impose police curfew across the country. Similarly, a National Action Unit has been established to conduct investigations, under the guidance of the Chief of the Defence Staff, and to conduct search operations to arrest the culprits. The Government has decided to bear funeral expenses of all the deceased persons," it added. The Government has also assured it will provide funds for the churches to be rebuilt. 
Condemning all explosions that occurred in several parts of the country, and expressing his condolences to all citizens, Prime Minister Ranil Wickremesinghe called on all Sri Lankans to remain united and act patiently.
"We have to ensure that terrorism does not lift its head in Sri Lanka, and we will take all measures to ensure terrorism is wiped out in this country. We also hail the three brave policemen who sacrificed their lives, and express condolences for all those who lost loved ones. We should hold our unity as Sri Lankans."  
"I strongly condemn these attacks, targeting several religious places and several major hotels. I would like to express my condolences, on behalf of the Government, on the explosions that occurred in several places, for the lives of those who were killed, and all their families and injured persons," he told media at Temple Trees.
Premier Wickremesinghe also said that he sees this incident as a serious situation for destabilising the country and the economy of Sri Lanka.
He asserted that all necessary steps have been taken to ensure safety and security in the country. "I have instructed the Defence Secretary, the Commanders of the Tri-Forces, and the Inspector General of Police (IGP), to take all necessary measures to that end," he added.
Prime Minister Wickremesinghe said the next steps to be taken were also discussed with President Sirisena and other Ministers of the Government.
The Prime Minister acknowledged the attacks will have an adverse impact on the economy, especially the tourism industry. "This type of attack also leads to economic problems in any country. Tourism will be affected for some time, which was one of our rising sectors. Similarly, there will be an outflow of funds. These are some of the issues that we will have to face," he added.
"Following a thorough investigation on these incidents, law will be strictly enforced against all those who were responsible for these attacks. We have enforced the security forces with the necessary powers to carry out their duties. Let us safeguard peace in Sri Lanka during this national crisis and remain united." 
Subsequently, Wickremesinghe visited the Kochchikade Church and St. Sebastian Church in Negombo. During the visit to the latter, Wickremesinghe also spoke with Archbishop of Colombo Malcolm, Cardinal Ranjith, on what could be done to address the immediate needs of the religious establishments.Wickremesinghe then also had phone conversations with Indian Prime Minister NarendraModi, and Pakistani Foreign Minister Mehmood Qureshi, on providing assistance to Sri Lanka. Both representatives had also expressed their condolences. 
Archbishop of Colombo Malcolm, Cardinal Ranjith, also strongly condemned the attacks and asked people of different religions to join to pray for all those who were killed and injured. 
"This Sunday morning, in two of my churches, St.Anthony's Church in Kochchikade, Colombo, and St.Sebastian's Church in Katuwapitiya, Negombo, two bombs exploded, killing nearly 150 people. It is a very sad day for all of us. I wish to therefore express my deepest sorrow and sympathy to all those innocent families that have lost someone, and also to those who have been injured and rendered destitute," he told media in Colombo.  
He also called on the Government to hold an independent investigation, and bring the wrong doers to book. "I like to request the Government to hold a very impartial and strong investigation as to who was responsible behind this act, and also to punish them, because only animals can behave like this. I wish to condemn this act in the strongest possible terms," he stressed. 
OmalpeSobithaThero also expressed his condolences regarding the attacks, and insisted all Sri Lankans were appalled by the attacks.   
"We express our deepest condolences. We condemn this unfortunate and uncivilised incident that occurred in churches. We vehemently condemn these attacks. We hoped the times when innocent lives were targeted ended with the conflict. I extend my deepest condolences towards the families of the victims, and I request from all Sri Lankans to not panic, and to support the officials to do their work, and not take the law to your hands. Let the authorities take necessary actions to find these culprits, and punish them for their actions. I urge Sri Lankans to keep the victims and their families in their prayers."  
Opposition Leader Mahinda Rajapaksa also called on the public to stay calm, respect the law, and not fall prey to unsubstantiated statements. 
"We vehemently condemn the unfortunate series of attacks that occurred on Easter, a sacred holiday for Catholics.At a time when brutal terrorism was brought to an end and safety was established, the consequences of hindering the Intelligence officers and security forces, including the Tri-Forces officers, are being paid through innocent lives. We are against the incumbent Government for allowing the country to be dragged into such a state," Rajapaksa said in a statement. 
"The Government must take action to safeguard the country from the unsafe situation the country is currently in. I also make this an opportunity to extend my deepest condolences towards the grieved Catholic families and communities, and shocked Sri Lankans. We share our grief with them."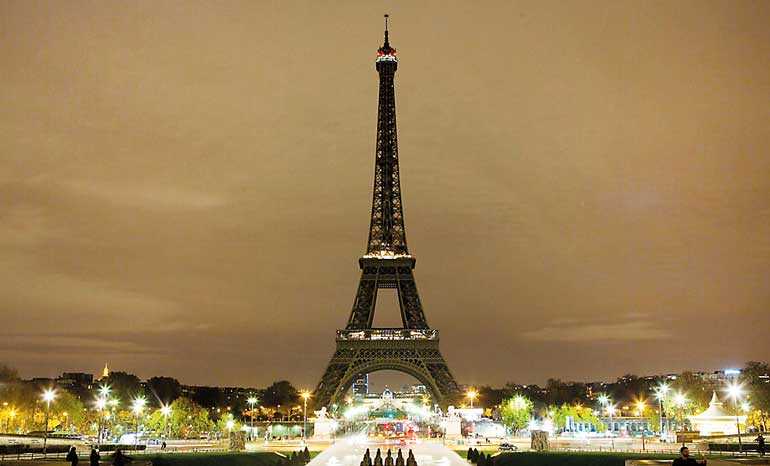 The lights of the Eiffel Tower were turned off to pay tribute to the victims of the Easter Sunday attacks in Sri Lanka yesterday
[ad_2]

Source link