[ad_1]

Says both deeply linked, calls for conference national security strategy 
Backs promoting unity and communal harmony, fighting against hate speech 
Says good leadership, effective communication and commitment mantra for success 
Responsible citizens first line of SL defence, advocates for civil-military partnership for information sharing 
By Uditha Jayasinghe
 Promoting and protecting Sri Lanka's economy and security was placed at the core of multi-dimensional challenges facing the country by Army Commander Lt. General Mahesh Senanayake yesterday. 
Delivering the keynote address titled 'Role of a Corporate in a National Crisis', at a seminar organised by the Association of HR Professionals (HRP) at BMICH, Commander Senanayake highlighted leadership, effective policies and patriotism based on a Sri Lankan identity as essential elements to restore calm and put the economy back on track. Referring to the Easter Sunday attacks and their impact across the economy, he acknowledged that Sri Lanka was faced with a fresh threat that would require ceaseless vigilance, but he also stressed that it was a situation Sri Lanka has the capacity to respond to competently.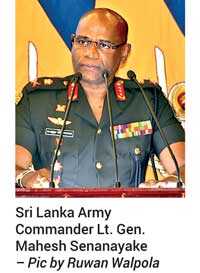 "When we consider our core challenges, we can identify two key terms; national economy and national security. There is a need for short, medium and long-term policies to address these two points that are the most important to the nation," he told the gathering. 
He pointed out that promoting democracy and good governance, strengthening national security and law and order, foreign policy based on a win-win philosophy, sustainable socio-economic development, promoting meaningful inter-religious harmony and reconciliation, and maximised trade and investment opportunities were all aspects linking national security and the economy together. 
"Absence of a realistic and coherent national security strategy and national defence strategy have been key concerns over the years. Due to various reasons even after 70 years of Independence, we have not been able to draft a strong national defence policy to capture the depth and width of Sri Lanka's national interest. A successful national defence policy can give impetus to our aspirations as well as socio-economic development, creating an environment that is conducive for development," he said. 
Describing national security as the 'life blood' of the armed forces, he called for a range of steps to be taken to foster community harmony and prevent fresh groups of extremists to emerge. He advocated laws to stop racist movements and hate speech with violence based on religious extremism to be treated as a 'major offence'. 
"A nation that humiliates another based on religion is not a truly civilised society. We also need to understand and address root causes of radicalisation. Inter-religious and inter-racial engagement will resolve misunderstandings and build trust. Structural reforms in education to allow children to study in mixed schools would be positive with involvement of intellectuals and academia. We have to work to prevent the formation of another group by proactively addressing extremism." 
Calling for corporates to produce better leaders in higher numbers, he called for professionals to focus on security as well as their other responsibilities. "Security should be in our DNA in the future. You as HR professionals are responsible for the lives of your employees, so don't compromise security." 
"As a responsible citizen, you are the first line of defence. Your vigilance, far-sighted choices and decisions will determine the future of this great nation. Vigilance and awareness of your surroundings could foil 80% of potential terror attempts. As the commander of the Army I have a sincere request for you all to be a transformational change manager, to yourself, your family, your organisation and to the nation. As a responsible citizen you should be able to add value to the country so it becomes a safer and more prosperous place," he said. 
"Leadership, effective communication, and commitment are my own success mantra. As leaders, you must ask yourself 'why should anyone be led by you?' then 'why should anyone work for you?'; what do your followers want from you, and are you a source of energy or an energy drainer? I believe the genesis of many problems is lack of effective leadership at every level. We need leaders who can make right decisions, at the right time, across the organisation."
Commander Senanayake called on HR mangers to understand the emotional and practical issues faced by their staff and work to address those problems as they were integral to an organisation's performance and its capacity to recover from a crisis. 
"As HR managers, when your people are down, you must understand and rise with them as a team in chaos. The future is defined by choices we make today." 
The Commander acknowledged the greatest security challenge comes from the rise and spread of extremism, radicalisation and terrorism. "Threats from these sources are complex and unpredictable. In contrast to conventional warfare, victories over extremism and terrorism are very rare. Fighting terrorism is like boxing, where you usually win by points, not by knockout. Therefore we always have to punch above our weight." 
"We need to use power smartly and craft coherent national policies. For that citizens must start thinking as Sri Lankans. We must unite for the survival and progress of this great nation. We need to understand that not all Muslims are terrorists and we have been living with them for centuries. During the war, many Sri Lankan Muslims sacrificed their lives for this nation and they remain in our hearts. The problem that we face today has many hidden layers that we need to identify and address holistically. Sri Lanka has already fought one long war and Sri Lanka cannot sustain another war at this moment. All Sri Lankans must think of the kind of country we will leave behind for our children." 
The Commander also called for monitoring of social media platforms, especially against spreading hate speech alluding to people spreading racist posts as "more dangerous than a suicide bomber". 
"We can only bring peace by working with all communities. We have to understand our responsibility as a nation. It is our duty to use the resources available to foster development and set an example for others to follow. We have to work for the best interests of our nation. An enduring civil-military partnership must be developed to fight radicalisation and escalation of extremism." 
[ad_2]

Source link