[ad_1]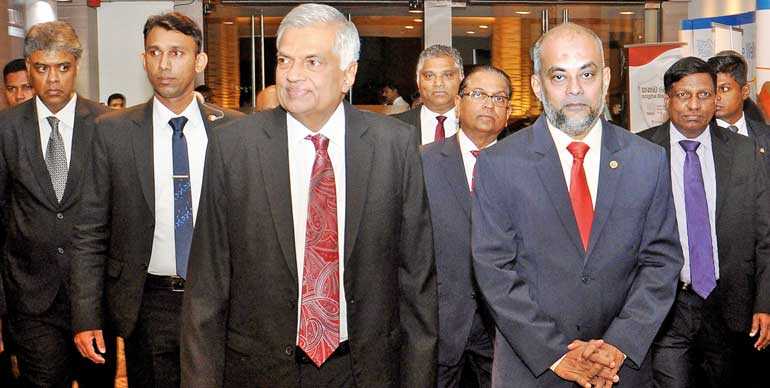 Prime Minister Ranil Wickremesinghe, attending the Sri Lanka Retail Forum last evening as the Chief Guest, walks in accompanied by Sri Lanka Retailers Association Chairman Hussain Sadique. SLRA Vice Presidents Sidath Kodikara and Murali Prakash, Treasurer Charitha Subasinghe, Assistant Treasurer Ajith Amarasekera and Singer Sri Lanka Group CEO Asoka Pieris are also present – Pic by Ruwan walpola
Says SL not unique in currency depreciation but can use present situation to transform into export-oriented economy 
Steadfast dedication to improving economic competitiveness, liberalisation 
Retail sector development essential to foster growth
SL has potential to become retail hotspot in South Asia    
By Uditha Jayasinghe 
Current challenges faced by Sri Lanka's economy should be viewed as an opportunity to push forward dynamic change to transform into an export-oriented economy, Prime Minister Ranil Wickremesinghe said yesterday, insisting that the countries that change fast will be best equipped to get through the crisis.    
Speaking at the Sri Lanka Retail Forum 2018, Wickremesinghe acknowledged Sri Lanka was constrained by external risks of an appreciating dollar and increasing oil prices. However, he pointed out that Sri Lanka is not the only country to face external challenges and advocated that the current situation should be used as an opportunity to implement reforms to become a more competitive economy. 
"We have to make changes and we have to do so fast. The countries that make the changes fast will get through this crisis. We are not the only ones who have balance of payment problems, but with the limited exports we make, we have to go on and make the transformation to grow," he said. 
Wickremesinghe noted the Government remained dedicated to continuing its liberalisation policies, improving Sri Lanka's ease of doing business rankings, and rolling back bureaucracy to improve exports and attract investment. He also agreed with the event organisers that a national policy on retail would benefit the economy. 
"Let's sit down and see how we can help everyone, from village retailer upwards. You have to ensure there is money in the hands of the people, and this is the challenge all governments in the world are faced with today. In the last six months, economic climates have changed in a way that we have not anticipated."
"Countries such as Thailand and Vietnam are better equipped to face these changes because they have focused on export-oriented economies. They have sufficient reserves and foreign exchange earnings that buffers external risks."   
Retail markets around the world are taking a beating due to the contraction of the global economy with household expenditure dropping even in large markets such as China and India. This situation is likely to last for at least a year, noted the Prime Minister, stressing that limitations of money circulation, interest rates, growing non-performing loans, and currency depreciation were taking a toll on retail.  
"We have to go forward. Retail has long been part of our free market economy and it needs to be carried forward, but in a way that will earn us more foreign exchange. To improve retail, we have to roll back red tape. There is much bureaucracy and regulations that makes it virtually impossible to do business. This is where we are looking to improve ease of doing business."
Wickremesinghe had an optimistic view of Sri Lanka's debt repayments in 2019, pointing out that as funds would be raised from international capital markets, the Government would borrow less locally, allowing for the private sector to have access to credit that would otherwise have been taken by the State. Growth sectors such as tourism also created space for retail to grow and create more jobs.   
"All of retail is changing fast. Firstly, there is a growing middle class, especially in Asia, so this is driving retail. Urbanisation is also growing. There are new technologies, particularly the replacement of money with credit cards, which makes retail stronger. Consumer patterns are changing, fashion is changing, and millennials are becoming a determining factor. This gives a lot of opportunities for Sri Lanka to lead the retail sector in this part of the world." 
[ad_2]

Source link