[ad_1]

By Nishel Fernando 
The decline of ethics and morals in Sri Lanka's business community has led businesses to heavily depend on excessive lobbying to politicians to gain "favour and unfair advantage" over the competitors, a leading shipping and logistics industry figure lamented.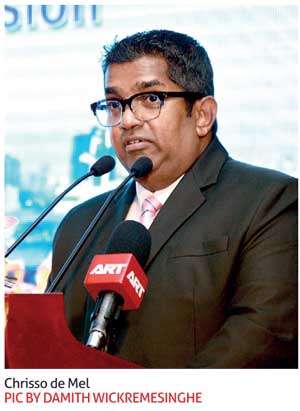 Addressing the post business session of the 48th Annual General Meeting of the Sri Lanka Shippers' Council, its Chairman, Chrisso de Mel, highlighted that due to the decline and demise of ethics and morals such as integrity and honesty, business leaders have lost the right spirit in which businesses should be carried on. 
"Time and time again we have thrashed politicians at will, standing at these podiums or other forums such as this. But nothing has changed, because it is almost a trend these days where business leaders are helplessly running to politicians like headless chicken looking for favour and unfair advantage. But they get frustrated and complain when others do the same.
 If a politician agrees to tango with them, they consider him good, but if not, they label him as corrupt. Through our individual short-sightedness, we have traded our strength to stand together as one and hold the administrators accountable but rather we have opted to remain divided and weak in separate silos.
We don't have a problem in obeying traffic lights as long as it is green for us. But if it's red we complain, because we fail to understand that when it was green for us, it was red for someone else," he said. 
De Mel pointed out that the business community is constantly in doubt that the government policies are either targeted at providing unfair advantage to certain businesses or to enhancing the popularity of the voter base.
"We all have a fair suspicion, that all policies are directed either towards fulfilling a businessman's wish list or targeted towards enhancing the popularity of the voter base, rather than the country's requirement, which is the main reason, in my opinion, for the inconsistency, we have seen in our policies. Needless to say, that this result in the lack of certainty, that is directly connected to the investors' trust, which will eventually determine the FDI that flow into the country," he said.  De Mel also cautioned the businesses to beware of fake news which penetrates into minds and influences thinking.
He emphasized that the current political situation in the country has also become an obstacle to businesses to move forward. "Sri Lanka must be willing to face the facts, take stock, get the house in order and move forward," he asserted. He added that the implementation of ongoing projects such as the National Export Strategy (NES) and the national trade facilitation initiatives taken to establish a trade information portal and a single window are imperative for Sri Lankan businesses to gain advantage and be in the forefront of the competition as an international trading partner. 
[ad_2]

Source link