[ad_1]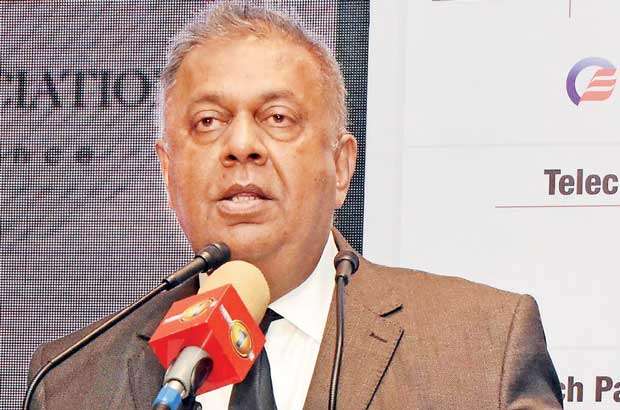 Mangala Samaraweera
Pic by Nimalsiri Edirisinghe
Finance minister says 2019 budget will allocate more funds for  Enterprise Sri Lanka, Gamperaliya 
Govt. has so far spent Rs.5.2bn worth of public funds as loan subsidies under Enterprise Sri Lanka 
Over Rs.53bn disbursed as Enterprise Sri Lanka loans last 5 months alone; Rs.20bn pumped into rural economy under Gamperaliya
Says govt. committed to economic liberalisation; stresses import restriction a temporary measure
By Nishel Fernando  
The government is planning to give a further boost to its Enterprise Sri Lanka (ESL) loan scheme and Gamperaliya rapid rural development programme from the 2019 budget, aiming to stimulate the domestic economy in a sustainable manner. 
Finance and Mass Media Minister Mangala Samaraweera yesterday revealed that banks have already disbursed over Rs.53 billion under the ESL loan schemes for small and medium enterprises in value-added agriculture, fisheries, export manufacturing, renewable energy, IT and tourism.
Further Rs.20 billion has also been pumped into the rural economy under Gamperaliya for 45,000 new rural infrastructure development projects.
Samaraweera was addressing Sri Lanka Retail Forum 2018, organised by the Sri Lanka Retailers' Association in Colombo, yesterday. 
He said these programmes would be further expanded in the upcoming budget to provide the necessary stimulus to the drought-hit rural sectors as well as urban areas. 
"Over Rs.53 billion has been disbursed as ESL loans last five months alone, in keeping with our objective to create 100,000 new entrepreneurs within next year. 
This year alone, we have injected Rs.5.2 billion of public money as loan subsidies and we hope to expand it even further when I present the next budget on November 5," he said. 
Speaking of the Gamperaliya programme, the minister stressed that 45,000 development projects have covered almost every village in Sri Lanka and these projects are on track to be completed by November 30. 
"The government has a clear strategy to provide stimulus to growth in a sustainable manner. While short-term consumption-based stimulus would have been positive for the retail sector, in the long run, such measures are typically counterproductive," Samaraweera commented.  
He expects these programmes will boost the productive capital in the domestic economy in the long term and is of the view that they will have a positive impact on the consumption and retail sector in particular.  
He was hopeful that the economy would gather momentum in the second half and the country would register a higher economic growth than the first half. 
While reiterating that restrictions on imported non-essential goods are temporary, he assured that the government is committed to rapid liberalisation of the Sri Lankan economy. "These are all temporary measures and they will be reviewed accordingly.
The government has no intentions to restrict imports on a permanent manner and we have no plans to go back to the closed economy of 1970s. The government is committed to rapid liberalisation of the Sri Lankan economy," he said. 
Samaraweera noted that Sri Lanka is facing a massive debt repayment burden running into Rs.5.9 trillion— Rs.1.9 trillion this year and Rs.4 trillion in 2019-2020.
"While we face a couple of challenging years ahead in the short term, we have built the necessity stability to face up to these challenges. The future holds tremendous potentiality and Sri Lanka is in the fastest growing South Asian region," he stressed. 
[ad_2]

Source link