[ad_1]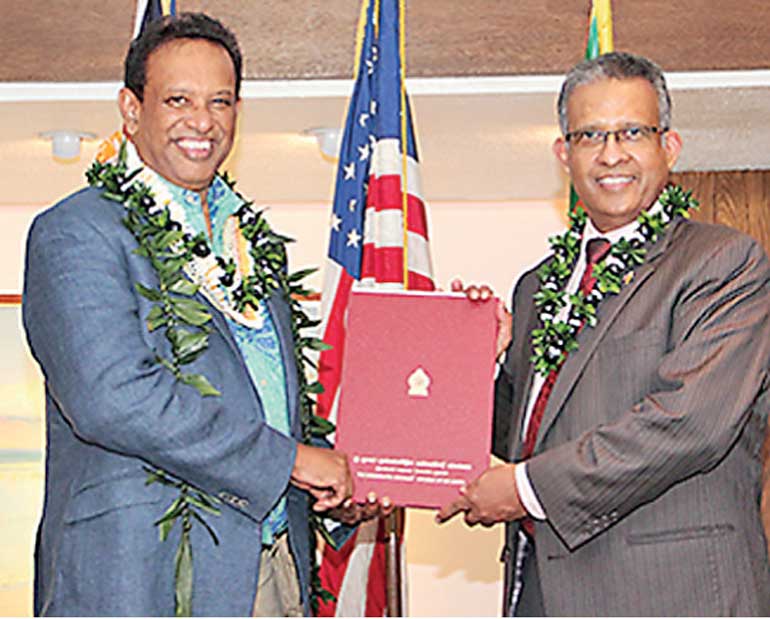 Bede Dhammika Cooray receiving his appointment as Honorary Consul of Sri Lanka for the state of Hawaii from Sri Lankan Ambassador to the US Prasad Kariyawasam 
Coinciding with celebrations to mark the 69th Independence Day of Sri Lanka, Bede Dhammika Cooray was appointed Honorary Consul of Sri Lanka for the state of Hawaii at a ceremony held at the Pacific Club of Hawaii. 
He was given a warm welcome by Sri Lankan Ambassador to the US Prasad Kariyawasam at the event. 
The ceremony was preceded by a celebration held to commemorate Independence Day. Senior representatives of the Hawaiian administration, judiciary, diplomatic community, US Pacific Command (USPACOM), East West Center, Asia Pacific Center for Security Studies (APCSS) and the Sri Lankan American community participated in the event. Speaking at the event, Ambassador Kariyawasam touched on the ongoing cordial relationship between the United States and Sri Lanka. He expressed appreciation to the people of the United States and especially the citizens of Hawaii for the mutual trust and respect for each other's cultural and economic diversity.
Cooray is an accountant by profession and runs business ventures both in Hawaii and Sri Lanka and has been a resident of Hawaii for almost 30 years. His wide corporate experience will enable him to facilitate Sri Lanka-Hawaii relations and take it to new levels of mutual benefit. His philanthropic efforts in both local and overseas social responsibility projects, especially for the Sri Lankan-American community in Hawaii, holds him in good stead for his future endeavors.  Addressing the audience, Cooray stated: "Tonight was a wonderful opportunity to bring together the Sri Lankan community and distinguished guests from the Hawaii community to celebrate our nation's independence and dedicate myself to the task of enhancing relations between Hawaii and Sri Lanka."
The evening's agenda included religious observances conducted by clergy, the lighting of the oil lamp by matriarchs of the Sri Lankan American community and a speech on Hawaii-Sri Lanka relations by Poet Laureate Prof. Wimal Dissanayake, with traditional Kandyan and Hula dance performances by young dancers from the Sri Lanka-American community.
[ad_2]

Source link