[ad_1]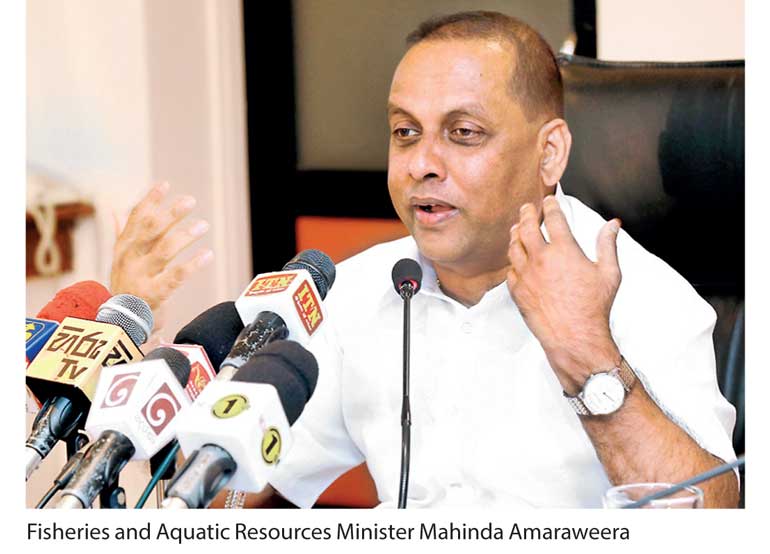 By Himal Kotelawala
Dissuading fears of a military-led suppression of lawful protests and demonstrations, a senior Government Minister yesterday reiterated that the proposed appointment of Field Marshall Sarath Fonseka to "discipline" the country should not be cause for alarm.
Speaking to the media at the Government Information Department, Fisheries and Aquatic Resources Minister Mahinda Amaraweera said that Fonseka's appointment, contrary to kneejerk reports on Wednesday, was in fact only as head of a special Cabinet-appointed committee to deal with emergency situations and disruptions to essential services and is in no way meant to suppress all protests.
"It's not at all like it was reported in the media. It's not an attempt to stop strikes and suppress unions," he said.
Cabinet Spokesman and Health Minister Dr. Rajitha Senaratne had previously said that President Maithripala Sirisena had requested the former Army Commander to lead the military again as Commander or as Chief of Defence Staff in order to bring "discipline" to the country. However, it was later clarified that the position was to lead a special Cabinet-appointed committee to respond to disruptions to essential services. This came in the wake of a fuel strike that threatened to cripple the country and a wave of other, allegedly politically motivated protests.
Emphasising the need to put the record straight, Minister Amaraweera said that, as a respected war veteran who already holds one of the highest positions in the land, there was no move to reappoint Fonseka as Commander of the Army but rather his help and expertise is being sought with regard to the issue of unfair protests that inconvenience the public and disrupt essential services.
"It's not like he's going to don the uniform again and go to the battlefield with a gun. But as a Minister, he possesses immense knowledge with which he will assist all ministries. That's a good thing. We should obtain his expertise," said Amaraweera.
If the recent fuel strike had continued just one more day, he said, people wouldn't have been able to go to work, and life would have come to a standstill as ambulances, flights, buses and trains would've had to be grounded.
"Forget cars. The whole country would've been at a standstill. In such a situation, maintaining essential services is the responsibility of the Government. [Field Marshall Fonseka] was asked to put together that mechanism," he said.
Asked who would determine whether a protest or demonstration was unfair or not and on what criteria, the Minister said that the media had a role to play in pointing such protests out.
"It's hard to draw a line, but it can be determined," he said, adding that some television stations, for example, have highlighted the plight of the hapless public suffering as a result of politically motivated protests that unfairly disrupt day-to-day life.
Organisers of these specific types of protests, the Minister said, depend on media for coverage and publicity. 
"If the media goes just one month without giving publicity to these protests, how many of them do you think will still be held?" he asked.
In such unforeseen instances, the Minister explained, the proposed committee could come up with strategies on how best to handle the situation – for example, if an engineer at the Ceylon Electricity Board is on strike, an army engineer could take over duties.
This is not suppression, he added.
"These protests grab headlines. Before they do anything else, the organisers speak to the media first, looking for advanced publicity.  Protests are being held for things that are necessary and for things that are unnecessary – not all recent protests were due to real issues."
The Minister hastened to add, however, that he was not being critical of the media, acknowledging that the press needed to report on such matters. However, he asked that journalists consider the kind of impact not reporting on such protests will have.
Responding to journalists present at the press conference, Amaraweera also insisted that this was not a move to silence protesters. There are fair strikes and protests, and the Government has no problem with unions and other actors holding justifiable protests to win their rights, he said. However, holding protests for the smallest things, causing great inconvenience to the public must be questioned.
When asked if this was bad news for the media, the Minister assured that there will be no media suppression.
"Don't be afraid to report anything about any Minister or any other individual. You will not be attacked or abducted," said Amaraweera. However, that freedom should ideally not be abused to make false allegations and sling mud at politicians, he added.
[ad_2]

Source link