[ad_1]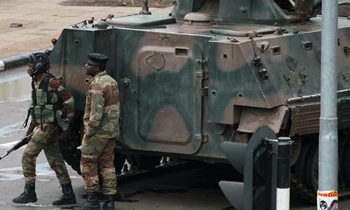 Zimbabwe's army had insisted that President Robert Mugabe was safe as it took over the state broadcaster and arrested a number of senior government officials during a night that saw military vehicles patrolling the streets of the capital while gunfire and explosions rang out, the Telegraph reported today.
Military officers had denied they had carried out a coup, announcing on state TV that they were targeting a ring of government plotters following a power struggle that saw the vice-president flee the country last week.
"It is not a military takeover of government," an army spokesman said in a televised statement. "We wish to assure the nation that his excellency the president… and his family are safe and sound and their security is guaranteed.
"We are only targeting criminals around him who are committing crimes that are causing social and economic suffering in the country in order to bring them to justice.
"As soon as we have accomplished our mission we expect that the situation will return to normalcy."
The address came hours after several loud explosions echoed across central Harare and troops seized the headquarters of the ZBC, Zimbabwe's state broadcaster.
"Although it doesn't look like a coup, it is a coup," Zimbabwe analyst Alex Magaisa, a senior Zimbabwe legal analyst based in the UK, told The Telegraph.
Several cabinet ministers, including local government minister Saviour Kasukuwere and finance minister Ignatius Chombo, and Mugabe's nephew Patrick Zhuwayo, were arrested.
There was allegedly a brief gun fight outside Mr Chombo's house. All three are part of the G40 faction of Zanu-PF which is loyal to Grace Mugabe, who was being lined up to take over from her husband after the vice-president Emmerson Mnangagwa was fired last week.
Speculation had been mounting throughout the day that a coup was under way against Mr Mugabe, after the head of the armed forces threatened to "step in" over the sacking of an influential vice president.
Gunfire erupted near Mr Mugabe's private residence in Harare in the early hours of Wednesday, a witness has told AFP.
"From the direction of his house, we heard about 30 or 40 shots fired over three or four minutes soon after 2.00 am," a resident who lives close to Mugabe's mansion in the suburb of Borrowdale said.
Two hours later, soldiers overran ZBC, a principal Mugabe mouthpiece, and ordered staff to leave. Several ZBC workers were manhandled, two members of staff and a human rights activist said.
[ad_2]

Source link