[ad_1]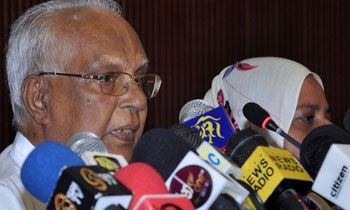 The chairman of the South Asian Institute of Technology and Medicine (SAITM), Dr. Neville Fernando said today that they had the backing of the government and would continue SAITM operations without fear.
"We have the backing of the government. We have no fear. We will continue the operation of SAITM. I must thank President Maithripala Sirisena, Prime Minister Ranil Wickremesinghe, Higher Education Minister Lakshman Kiriella, Health Minister Rajitha Senaratne and Minister S.B. Dissanayake for their support. Minister Rajitha Senaratne has asserted that SAITM would not be shut down," he said.
He said at a media briefing that they were not under a great threat until an extremist leftist party joined the GMOA recently.
"If I wanted to make money I would have opened a casino. I would not have given a 30% student scholarship. I gave scholarships to 10 students at the request of former president Mahinda Rajapaksa and they are in the final batch now. If it was not done, they would have missed out on a career in medicine," he said
Responding to a question on whether they would agree to regulating private universities, if more universities like SAITM were opened in the future, Dr. Fernando said a common MCQ paper should be set for all the state universities, SAITM and students coming from foreign universities to check their standards.
"Let's hold a common MCQ for all the state universities, SAITM and students coming from foreign universities and see. I am sure our students will come on top. Only such a test can measure the standard. We have no faith in the Sri Lanka Medical Council (SLMC). If they were to hold the test, they are sure to fail our students," he said. (Ajith Siriwardana)
[ad_2]

Source link