[ad_1]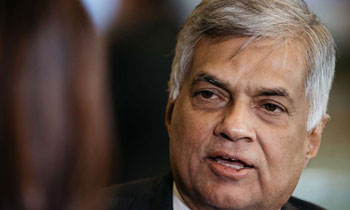 Prime Minister Ranil Wickremesinghe yesterday stressed the need to speed up the process of finding a political solution to the national question and the development of the economy.
He said this during the vote of felicitation to mark his 40 years as a parliamentarian.
"The two main factors we have to focus are on securing permanent peace and economic development and it is essential to speed up our effort to achieve these objectives," the Premier said and added that the two main parties should work together for this purpose.
"World politics was based on Europe during the time I joined politics but today the region that is emerging is Asia and we Sri Lankans should understand this situation," he said.
Mr Wickremesinghe earlier highlighted the major political events during the last 40 years.
"I was initially elected to the National Assembly in 1997 and the present Parliament complex was built in the middle of an island. We witnessed the 1983 riots, an impeachment motion being brought against a president, the assassination of a president, the assassination of an opposition leader, the end of a war and the jailing of a candidate who contested the presidential elections. This was the kind of political arena I have been working in during the past 40 years," he said. "One thing I learnt during my career is that one must take to heart the advise given by one's elders and the value of learning from experience. As an experienced politician the advice I can give is that one should maintain discipline and gracefully accept both victory and defeat.
He thanked his family, the former Presidents J R Jayawardene, R. Premadasa and former ministers Lalith Athulathmudali and Gamini Dissanayake for positively influencing his career. (Yohan Perera)
[ad_2]

Source link