[ad_1]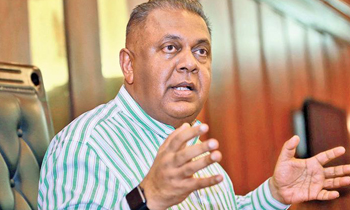 The Government hopes to operate the national carrier SriLankan on a public-private-partnership and is currently discussing this matter with several business entities including Qatar Airways, Finance and Mass Media Minister Mangala Samaraweera told a media briefing today.
"Government is unable to bear the burden of this loss-making airline any further and is exploring other options on how best to operate this airline," he said.
The minister said SriLankan would be converted into a public-private-partnership or PPP in line with Thursday's Budget proposal to initiate such partnerships to effectively manage State entities.
He said the banks would not be allowed to burden the people with the debt re-payment levy, which was one of the new taxes introduced in the 2018 Budget.
The minister said it was actually a 'Medamulana tax' because the revenue thus collected would be used to repay the huge loans obtained by the previous government.
With regard to the new tax formula on liquor introduced in the Budget, the minister said under the new proposal, strong alcoholic drinks will be subjected to a tax of 84 per cent while light alcoholic drinks will be subjected to a tax of 13 per cent while the tax on a litre of beer has been reduced to Rs.100 from the current tax of Rs.190.
"The fees charged for the issuance of Passports, National Identity Cards, entry to national parks such as Yala and the National Zoological Gardens had been increased because they have not been changed for the past three years," the minister said and added that these fees had been increased by 15 per cent from January 1, 2018.
"The government has presented a blue-green budget while focussing on aspects which none of the previous budgets had looked into," he said and highlight the fact that one such proposal was the provision of loans up to Rs.200,000 to GCE Advanced Level students who failed to enter universities so that they could pursue higher studies. (Yohan Perera and Ajith Siriwardana)
[ad_2]

Source link