[ad_1]

Sri Lanka High Commissioner to the Republic of South Africa Anuruddha Kumara Mallimaratchi presented Letters Of Credence to the President of the Republic of Zambia Edgar Chagwa Lungu at a ceremony held on 3 May at the State House in Lusaka.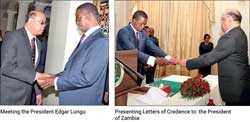 While conveying warm wishes from President Maithripala Sirisena to President Lungu and people of the Republic of Zambia, High Commissioner Mallimaratchi expressed his desire to enhance the bilateral ties between the two countries. Mallimaratchi stated that Sri Lanka obtained accreditation status in African Union in 2014 as a non-African State to enhance the co-operation between Sri Lanka and the African region. He also mentioned that a draft text of the Agreement on Co-operation between Government of Zambia and Sri Lanka has been exchanged with Zambian authorities and a draft MOU on Military Training and Co-operation between Sri Lanka and Zambia is being negotiated presently. He further mentioned that the Government of Sri Lanka is looking forward to building stronger relations with Zambia based on friendship, understanding and mutual respect.
President Lungu extended a warm welcome to the High Commissioner and stated that the two countries are closely knit by common goals of sustainable development, stability and peace, as enshrined in the 2030 Agenda for Sustainable Development Goals (SDGS). The Zambian Government has undertaken various measures aimed at improving their business environment in order to foster and deepen partnerships with their friends and strategic partners. He invited Sri Lanka to take advantage of Zambia's enabling investment climate, with its stable political environment and a secure and reliable legal framework, and to work towards building stronger business linkages with Zambia for the mutual benefit of their people.
The President further stated that Zambia and Sri Lanka have enjoyed warm relations over the years since the establishment of diplomatic ties and that the Zambian Government has committed to further consolidating relations with Sri Lanka and ensuring that both Zambia and Sri Lanka engaged in meaningful co-operation in the areas of agriculture, agro-processing, manufacturing and other sectors of mutual interest. He also commiserated with Sri Lanka on behalf of Zambia and joined the international community in condemning the recent bombings on churches and hotels, in which innocent lives were lost and hundreds wounded, adding that such cowardly terrorist attacks are inhumane and despicable.
Mallimaratchi had the privilege of meeting the first Zambian President Kenneth Kaunda with Consul Elmo Jayatileka after the Presentation of Credentials. The Sri Lankan community in Lusaka, led by Zambia-Sri Lanka Friendship Association Chairman Sunith Medonza and Consul Jayetileke, hosted a dinner in honour of the High Commissioner in which more than 66 Sri Lankans participated. 
Mallimaratchi also met former President Rupiah Banda on the morning of 4 May. 
[ad_2]

Source link