[ad_1]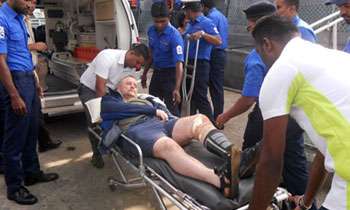 Sri Lanka navy assisted to transfer a severely injured Russian crew member on board 'MV Boston', a Bulk Carrier belonging to Marshall Island, ashore for treatment on Sunday.
The crew member had got one of his legs severely injured due to an accident on board 'MV Boston' which were on her passage from Guinea to Singapore.
Navy said on receipt of the information released by the Maritime Rescue Coordination Centre about the patient, SLNS Nandimithra, the Fast Missile Vessel attached to Southern Naval Command had dispatched from Galle harbour to the location -146 nautical miles off Galle light house.
Accordingly, the patient was safely transferred to the Galle harbour and admitted to Teaching Hospital-Karapitiya for medical treatment. (Darshana Sanjeewa)
[ad_2]

Source link