[ad_1]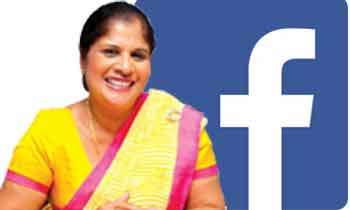 Sri Lanka may have to introduce laws to ban minors using Facebook in the wake of several countries having done so, Children's and Women's Affairs Minister Chandrani Bandara said yesterday.
She said this at a ceremony held at Temple Trees yesterday to mark World's Children's Day.
"Several countries have introduced laws banning minors using Facebook. Sri Lanka will have to do the same considering the present circumstances. Parents tend to think that their children are safe when they are in their rooms. However, today's advanced technology can destroy a child's mind even if they are in their rooms at home," the minister said.
She said children spend more time on the internet instead of discussing matters with their parents, who are busy trying to advance their professions.
The minister said Sri Lanka would have to think of ways of allowing a child to access the internet to obtain information needed for their educational needs.
"The Education Ministry has decided to limit the number subjects for the GCE Advanced Level Examination and to change the nature of grade five scholarship examinations so that children would not be subjected to pressure as it is the case now," she said. "The minister said children are today exploited by global forces. According to the International Labor Organization (ILO), 82 per cent of children between the ages of five and 11 are employed in the agricultural sector, 4.7 per cent in the industrial sector and 12.5 per cent in other sectors while 69.9 per cent of the children between the ages of 12 and 14 are employed in the agricultural sector, and 12 per cent in the industrial sector."
The minister said the situation in Sri Lanka is better. "However, last year 4,000 children were exploited in Sri Lanka while 956 children were subjected to violence, 112 children employed as labourers and 117 children subjected sexual harassment. (Yohan Perera)
[ad_2]

Source link