[ad_1]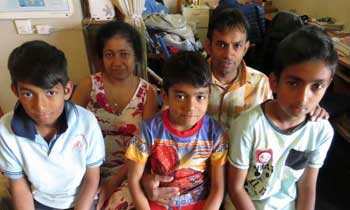 After eight years of living and working in New Zealand, the Wijerathne family face returning to Sri Lanka after their work visas were cancelled.
From left: Binath, 10, mother Dinesha Amarasinghe, Senath, 8, Sam and Subath, 11.
Living in a one-bedroom former camping ground cabin in Queenstown are three brothers, their mother and father.
There's not much space but the family's priorities are clear. On the walls are maps and mathematics charts. Desks and chairs cluttered with books and papers sit in a line under the window. Cricket bats and guitars are piled in between.
The Wijerathne boys – aged 11, 10 and 8 – attend Queenstown Primary School, where they are regarded as excellent students. Two made it to the recent finals of the Otago-Southland spelling bee. They were invited to sit Australian academic exams. They are swimmers and cricketers, playing for the Queenstown Club where dad Sam coaches. They go to church every Sunday.
It isn't an easy life. Their Sri Lanka-born parents have worked long hours as a chef and a taxi driver in one of the most expensive places in the country to support them and their mother has developed health issues. But it is better than the life they left behind eight years ago.
However, that is set to change. The family have been told they have to leave New Zealand on November 21.
The boys' mother, Dinesha Amarasinghe, tells her story through the tears that flow through her day, every day, since her latest application for a temporary working visa was declined.
She says the boys are angry with her. Her eldest son, Subath, wants to know why he can't join his friends at the new Wakatipu High School, which opens next year. Eight-year-old Senath wants to go to school camp. He was a year old when the family left Sri Lanka. New Zealand is his home.
"I blame myself all the time," Dinseha says. "They're very good kids at sports and studies. We are not doing any wrong things. We are helping at the school . . . everywhere. My kids, they can't go back there [Sri Lanka]."
Looking for a better life for their children and with Sri Lanka undergoing civil war for 25 years, Dinesha applied to come to New Zealand as a hospitality student in 2010. She had 10 years of industry experience and started working as a cook in Auckland in 2011, under Immigration New Zealand's skilled migrant category.
Late in 2011, the family moved to Queenstown, where she worked as commis chef at the popular Lone Star restaurant. Based on Dinesha's visa, Sam was granted an open work permit and worked at New World supermarket, the Hilton and as a taxi driver.
In 2014, Dinseha slipped on the floor while working and was later diagnosed with a lumbar sprain. Despite the pain in her leg, she continued to work while awaiting treatment but in January 2015, continuing problems forced her onto ACC. In May 2015, she had a brain scan and was diagnosed with multiple sclerosis (MS).
In October this year, because Dinesha was unable to work, her skilled worker temporary visa was declined. Without it, Sam can no longer work and the family have to leave the country by November 21.
The family have an application for residency sitting with Immigration NZ. They applied in April 2013. Their lawyer, Shane Robinson, was not involved with their case then but says that for the application not to be resolved to date is unusual.
Immigration NZ area manager Marcelle Foley said it usually took between six and 12 months to process a residency application. However, it was not unusual for longer processing times in complex cases "as is the case in the situation".
The processing of their residence visa has now been suspended as they have been unlawful in New Zealand since July, she said
Robinson said a large part of the delay was because Sam overstayed a working visa in Japan in 2006 and was deported. Despite that, he was given a visa in New Zealand as a special direction in 2012 but a dispute over the facts was continuing and was unresolved. However, Dinesha's health has now taken over as the key issue.
Confusing the family though is the fact that Dinesha was granted a new temporary work visa in 2016, despite her MS diagnosis. Robinson says Immigration NZ's operational instructions state MS disqualifies someone from getting a temporary work visa but Immigration NZ allowed it in this case partly because it was unclear what degree of her health issues were caused by the 2014 fall and there was the ability to grant a waiver in the case of a residence visa (which was still in progress).
"In hindsight, it may have been fairer on the family for INZ to decline the applications then and not give them false hope."
Foley said the organisation was aware in 2016 that Dinesha had MS. However, it was not until this year they became aware she had had a prolonged absence from work and she acknowledged that she would be unable to work in full-time employment for some time.
Dinesha was advised she was likely to impose significant costs or demands on New Zealand's health services or special education services, Foley said.
"All non-New Zealanders coming to New Zealand must have an acceptable standard of health so as not to impose undue costs or demands on New Zealand's public health system," Foley said.
Still, when the family's application to renew the visa was declined in October, they were taken by surprise and plunged into the desperate situation they are now in. Dinesha cannot work to the extent that is required. Sam can work but was declined for a work visa-partner and doesn't fit the "skilled employment" category.
Robinson said a request was being made for visas to be granted as a "special case" but the chances of that succeeding were low.
"We have also been instructed to file an appeal on humanitarian grounds . . . If both of those options fail, then the family's only hope is intervention by the minister of immigration."
The family dread the prospect of returning to Sri Lanka. Last year they visited for the first time since they have been in New Zealand. Subath, 11, has sad eyes and speaks quietly of the trip. "I don't like to go back to Sri Lanka," he says. "I don't like the mosquitos and we have don't have many friends there."
His parents are even more desperate to stay. "I'm not thinking about my future as a rich man but I'm thinking about education for my children another few years. We are asking for a chance," Sam says.
Life is hard in New Zealand but if they return to Sri Lanka they will have no money – it has all been spent on immigration and lawyers. Dinesha will not have access to the medicine she needs. Pay rates are low – not enough for Sam to support his children and wife – and the children, who are having great success at school now, will struggle with the native Sinhalese language and likely be finished school at 14 and become fodder for the gangs that are rampant in poorer communities.
"I'm not asking anyone for money. I've brought money from Sri Lanka to live here . . . now everything is gone but [in Sri Lanka] I have no house. I don't know where to start. Our parents are old, we can't ask them for help. They don't have money – we need to help them."
They are proud people but with Sam no longer permitted to work and with rent to pay, the $2500-a-month cost of Dinesha's medication and mounting legal costs, they have become reliant on charities, friends and the kindness of others.
"I can manage everything if they give me a chance," says Sam. "That's why we don't ask anyone for a hand. But with both not working it's really hard."
Dinesha questions why after years of working and paying taxes in New Zealand, the family should be treated this way.
"I came to New Zealand along with my family holding heaps of hopes and ambitions."- Stuff
[ad_2]

Source link