[ad_1]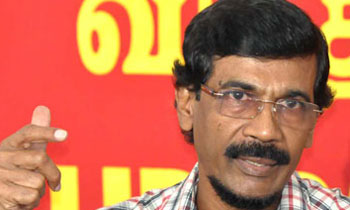 The Government attempts to extend the Acquisition and Cross-Services Agreement (ACSA) signed between the Defence Ministry's of the United States and Sri Lanka in March, 2007 without Parliamentary approval would place the country at risk, the Janatha Vimukthi Peramuna (JVP) said today.
"The agreement that provides for among others, logistics, supplies and re-fuelling facilities, was signed for duration of ten years and expired today (March 5, 2017),"the  General Secretary of the JVP Tilvin Silva said.
He said that the agreement was signed by then US Ambassador Robert Blake and former Defence Secretary Gothabaya Rajapaksa.
"The Government is attempting to extend the ACSA for another ten years. With this we are bound to supply facilities whenever they need our help in their missions. As a country we don't benefit by these kinds of agreements as we don't interfere in wars with the other countries," he said.
However, Mr. Silva also drew the attention that the US had military base in Diego Garcia in the Central Indian Ocean and said at any moment the country would have to support the US if they involve in a war with India or China, by giving our land to use as a military base to them. (Thilanka Kanakarathna)
[ad_2]

Source link