[ad_1]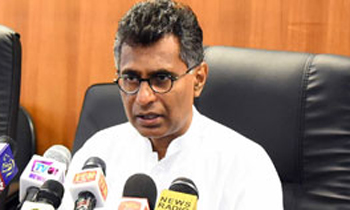 The Jathika Hela Urumaya (JHU) said today the crisis which has engulfed the South Asian Institute of Technology and Medicine (SAITM) should be resolved immediately based on the proposals submitted by the Medical Faculty Deans of the eight State universities.
JHU general secretary, Minister Patali Champika Ranawaka told a news conference that this matter would end up in disaster if opportunist politicians used it for their petty political gains.
"The government should realize the gravity of the issue and introduce an immediate solution. The Deans have submitted a set of proposals taking into consideration all stakeholders such as the university students, SAITM students and professionals. More than 10,000 university students have been affected by this longstanding matter," he said.
The minister said the government should resolve this matter without attempting to resolve the government policy on private education.
He said this crisis could only be resolved by absorbing SAITM into a State university and admitting students based on Z-score marks at the A/L examination.
"There are no issues about charging fees from the students. It should be absorbed into the State university system as a non-profitable institution," the minister said. (Ajith Siriwardana)
[ad_2]

Source link