[ad_1]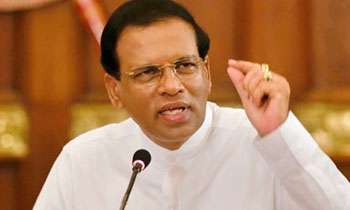 President Maithripala Sirisena said that he would sign required orders to execute capital punishment for convicted drug traffickers, who carried out large-scale drug smuggling operations, while in detention.
"Although there are deferent opinions regarding capital punishment in a Buddhist society, if a large number of criminal acts spread in such a society despite religious sermons, it will be necessary to take some timely actions to control crime," he said.
The President made this statement at the opening of the 'Schools to Boost Fight Against Drugs' campaign at Gatambe Grounds in Kandy today (July 11). This programme has been organized by the National Drugs Eradication Campaign and the Presidential Task Force Against Drugs with the intention of saving school children from the menace of drugs.
President Sirisena said that although the opponents level undue criticism, the number of crimes and rapes has dropped during the last three years. He pointed out that the report on crime in the last 10 years presented to the National Security Council yesterday has revealed that false propaganda about an increase of crime rates after this Government came to power was carried out by the opponents with political agendas.
However, pointing out that some social websites and use of illegal drugs have caused an increase in murders and rapes, the President said that it is the responsibility of the Government as well as the parents to give priority to save children from these evils.
President Sirisena pointed out that the children should be made aware of the dangers of drugs and make them the messengers of creating a drug-free society.
The President presented awards to those who made special contributions to the success of the campaign against drugs and alcohol.
On this occasion, the President made a contribution of Rs 2 million to Vice Chancellor of Peradeniya University, Prof. Upul Dissanayake for construction of an Oral Cancer Treatment Unit at the Medical Department.
[ad_2]

Source link