[ad_1]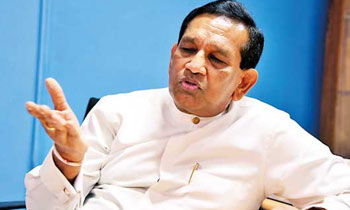 Minister Rajitha Senaratne yesterday dismissed reports that President Maithripala Sirisena had stormed out of the Cabinet meeting and said the President had gone to answer a call of nature and that he had also followed him.
"That was to answer a call of nature. I also followed the President to the washroom," he told the media when journalists asked him about the statement made by President Maithripala Sirisena on the vituperative remarks made by some UNP members before storming out.
All three spokesmen denied anything unusual or untoward happening at the Cabinet meeting.
However, the health minister admitted that Prime Minister Ranil Wickremesinghe gave an undertaking to prevent any member of the party making derogatory remarks about President Sirisena in the future.
The spokesmen said the UNP-SLFP led Yahapalana government was united and strong as ever and would rule the country until 2020.
The dialogue that ensued between ministers and the journalists was as follows:
Daily Mirror: Minister, do you say nothing unusual took place at Tuesday's Cabinet meeting?
Minister Senaratne: No. Nothing happened and the Cabinet discussed matters as usual.
DM: Didn't the President make a statement expressing his displeasure on the derogatory and vituperative remarks made by certain UNP members?
Minister: Yes, he made a statement, but it was nothing unusual.
DM: Then, are the news reports on this matter that appeared today in the print and electronic media incorrect?
Minister: This is what you are saying. Why make a mountain out of a molehill?
DM: No, it is a big issue. That is why the print and electronic media had used it as their main news item.
Minister: These things have happened before. During JR's tenure, Prime Minister Premadasa protested against the Indo-Lanka agreement and for bringing the IPKF to Sri Lanka. JR asked Premadasa to leave the government if he disagreed.
DM: If so, why did President Sirisena storm out after he made a speech to the Cabinet?
Minister: That was to answer a call of nature. I also followed him to the washroom.
DM: What do you have to say about the insults thrown at the President by MP Marikkar?
Minister: It was totally wrong; No one has a right to insult the President or the Prime Minister.
A journalist: What did President say to the ministers at the Cabinet meeting?
Minister: No, we can't reveal them. Besides, he told those things to us. Not to you.
Journalist: Was the bond scam discussed at the Cabinet on Tuesday.
Minister: No.
DM: Certain members of the UNP, SLPP and JVP say there will be a new political arrangement after the February 10 LG polls. What is the position of the SLFP?
Minister Jayasekara: This is wishful thinking. There will be no change of power or change of regime and the Yahapalana Government will continue up to 2020.
DM: Why these negative comments by SLFP members on the UNP?
Minister: You know, the Yahapalana Government is a combination of two rival political parties. They hated each other like Mongoose and Cobra. Today, they are in a coalition government and it is normal that members of the two parties clash sometimes, verbally. (Sandun A Jayasekera)
[ad_2]

Source link