[ad_1]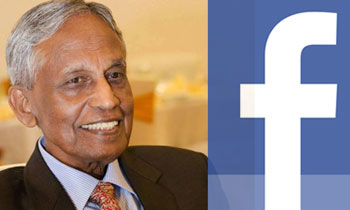 The President's Secretary Austin Fernando and representatives of facebook will meet at the Presidential Secretariat tomorrow, to work out a method to ensure necessary protection and surveillance, and to lift the temporary restriction on access to the facebook site, the Presidential Secretariat said.
Issuing a statement, the Presidential Secretariat said "the President stresses the importance of a guided mechanism to prevent the attempts to disturb the livelihoods of people, through spreading ethnic-hatred and racism and damaging the image of an individual through false allegations."
It also said;
The Government has taken steps to restrict access to social media tools temporarily during the last few days, in order to curtail the attempts to spread communal violence across the country, misusing the social media in a manner detrimental to the national harmony.
In a context where the impact that could be made by social media to expeditiously increase the violent actions based on racism and religious extremism has been internationally proven, Sri Lanka was able to control the rapid spread of violence by temporarily imposing restrictions on social media as an action to ensure the national and public safety of Sri Lanka.
President Maithripala Sirisena, who is currently on a state visit to Japan, after evaluating the security situation of the country and implementing the necessary monitoring and surveillance methods, had instructed his Secretary to permit access to Viber from yesterday night (13) lifting the temporary restriction imposed on it.
Furthermore, the President, based on further evaluation of the social media networks that are still denied access, has advised the lifting of restrictions on whatsapp service with effect from midnight of yesterday(15). (SAJ)
[ad_2]

Source link