[ad_1]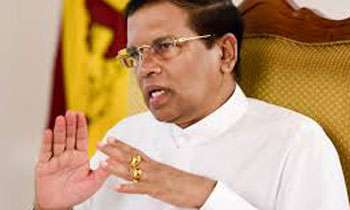 President Maithripala Sirisena has instructed to temporarily halt the decision taken by the education ministry to provide appointments and promotions to employees in the education sector based on political victimization, the Presidential Media Unit said.
It said in a statement that the President had taken the decision after a discussion with the Prime Minister over the phone.
The President had discussed the matter with the trade union leaders, who protested against the Education Ministry's decision today at the Presidential Secretariat.
The President and the trade union leaders had reached at decisions to temporarily halt proposed promotions and appointments and to appoint a committee comprising of senior officials attached to the Government Administrative Service and Education Administrative Service to look into the list of those selected for the promotions and appointments.
Meanwhile, the scheduled Trade Union action by the Ceylon Teachers' Union (CTU) had been temporarily called-off following discussions with the President.
CTU General Secretary Joseph Stalin said around 300,000 teachers and Principals attached to the union had decided to launch an islandwide strike action today against the move by the Government to reappoint nearly 1014 individuals based on grounds related to political vengeance.
[ad_2]

Source link