[ad_1]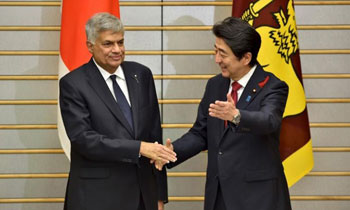 Prime Minister Ranil Wickremesinghe joined Japanese Prime Minister Shinso Abe in reaffirming the importance of open and transparent dealings in the use of the Hambantota Port, under full control of the Sri Lankan government, for the stable development of the country, a statement said.
The joint statement issued after the visit of Mr. Wickremesinghe said that Prime Minister Abe was of the view that Japan should further expand its maritime cooperation with Sri Lanka.
The remarks comes in the wake of Sri Lanka planning to partner with a Chinese company for the development of the Hambantota Port.
Japan had offered to help strengthen Sri Lanka's maritime safety capabilities by providing two patrol vessels and other support along with advanced defence exchanges and dialogue through the Japan-Sri Lanka Defense Dialogue, to be established shortly.
Japan also said it wished to seek Sri Lanka's participation as an observer in the next Japan-India joint maritime exercise between the coast guards of the two countries.
According to the statement, Mr. Wickremesinghe responded that he endorsed Japan's Free and Open Indo-Pacific Strategy. He also emphasised the need for maritime safety, which according to him was imperative for Sri Lanka to develop as a regional shipping hub. He called for cooperation between the authorities in charge of both maritime safety and defence of both nations in order to make this goal a reality.
Mr. Abe and Mr. Wickremesinghe met for last Tuesday (12). This was the ninth visit of Mr. Wickremesinghe to Japan.
[ad_2]

Source link