[ad_1]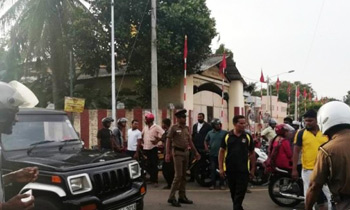 Two suspects had been arrested by the Police in connection with the shooting incident in which a gunman opened fire at Jaffna High Court Judge M. Ilanchezhiyan and his security detail at Nallur in Jaffna on Saturday, killing a police sergeant.
Police Spokesman SP Ruwan Gunasekara said according to the initial investigation, it was revealed that the shooting was unexpected incident but not a pre-planned attacked.
The 51-year-old Police sergeant Sarath Premachandra was killed and Police Constable Wimalasiri was injured in the shooting.
SP Gunasekara said Jaffna High Court Judge M. Ilanchezhiyan, who is a member of the trial-at-bar that is hearing the gang rape and murder of Vidya in Jaffna, his driver and constable Wimalasiri were traveling in a car at the time of the incident, when sergeant Premachandra was escorting in front of the car in a motorcycle providing security.
The Sergeant got off the motorcycle at Nallur to clear the road as there was traffic congestion in the area caused due to an argument among a group of drunk individuals.
Suddenly one of the drunken man had grabbed a pistol of the Sergeant and had shot at him.
Police Constable Wimalasiri, who was in the car had then get off and opened fire at the gunman.
However, the Constable was also injured in the shootout and the gunman had fled the scene.
The judge escaped unhurt as the bodyguards prevented the judge from getting off the vehicle.
The injured policemen were admitted to the Jaffna General Hospital for gunshot injuries and Sergeant Premachandra, who was a father of two, succumbed to injuries early this morning.
The Police arrested the two suspects at the scene in connection with the shooting and investigations revealed the suspects were brothers and a relative of the main suspect in the shooting.
SP Gunasekara said the Police had deployed several teams to arrest the main suspect and ruled out the claims that the Judge was targeted by the gunman.
Northern Province Senior DIG Roshan Fernando is leading the investigations. (Darshana Sanjeewa)
[ad_2]

Source link